[Updated] Bernews understands there has been a shooting in the St Monica's Road area this morning [Nov 27]. Unofficial reports indicate that at least one person has been shot, and possibly two.
The Police are presently on scene and have blocked the area off, from both the Glebe Road and Palmetto Road sides [pictured below, click to enlarge] We are unable to officially confirm any further information as of yet, however will update as able.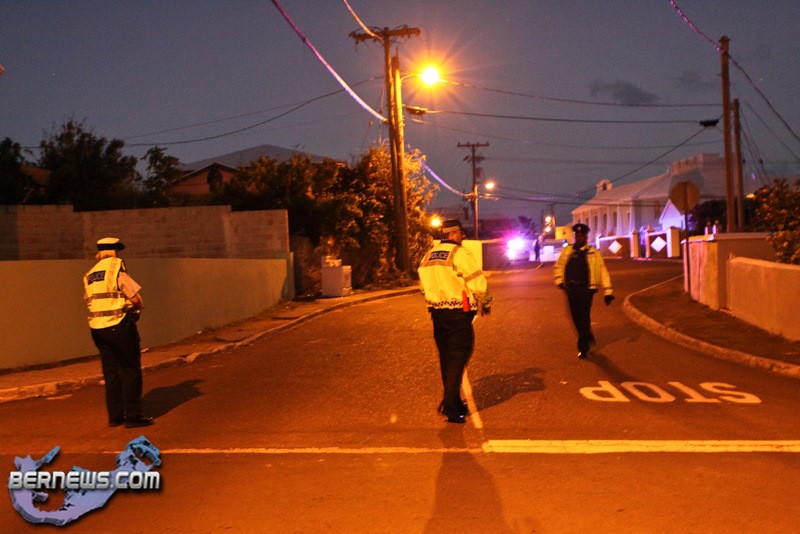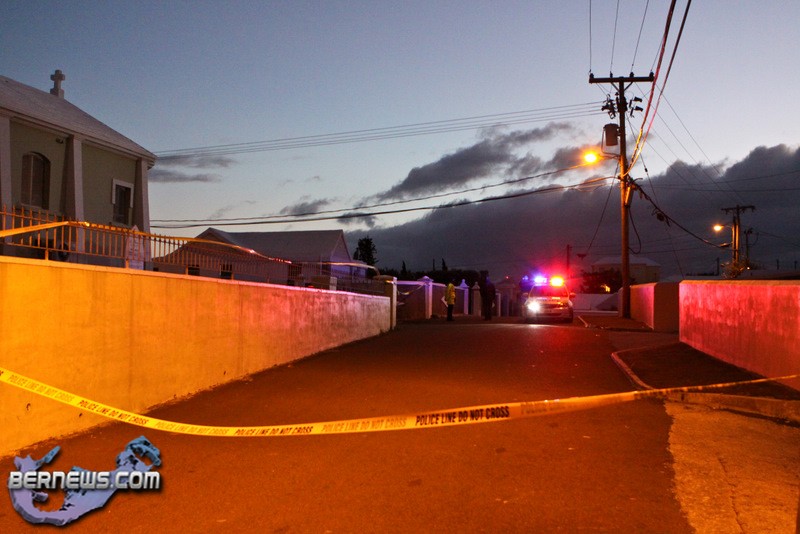 —-
Update 5:55am: Police presence in the area has increased, senior officers are arriving. The hospital is on lockdown, with multiple officers and cars outside – and a Police presence inside the door as well. We can confirm someone has been shot, however are unable to officially confirm how many have been shot – unofficial reports coming in indicate two people have been shot, one seriously injured.
Update 6:40am: Unofficial reports indicate that one person was shot in the head, and is very seriously injured. The Police have blocked off Mission Lane with crime scene tape [pictured below], and appear to be paying specific attention to the area.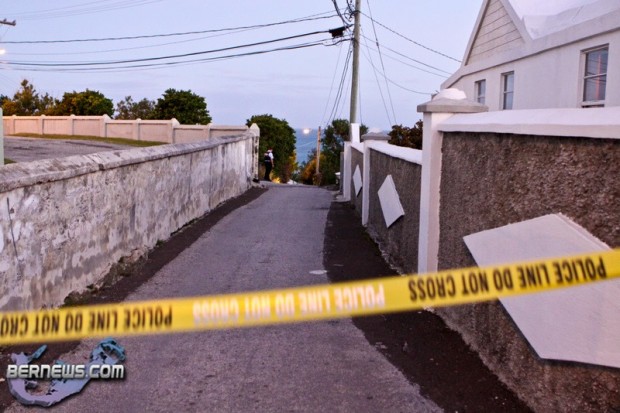 Update 6:52am: Police confirm that the incident occurred at 5:30am this morning, and have also confirmed that two men have been shot. Area residents reports hearing multiple shots.
Update 7:30am: The Police Forensic Unit is on the scene, and it is being processed.
Update 7:49am: Video footage of the scene, and a statement from Detective Chief Inspector Nicholas Pedro, Officer in Charge of the Serious Crime Unit.
Update 10:00am: Police confirm the victims as being 40 and 44 years old.
Update 10:37am: Police have left the area. [photo]
Update 10:57am: Official statement from Police: "Around 5:30am on Saturday, Police responded to a confirmed firearm incident in the St. Monica's Road, Pembroke area. Details about the incident are unclear at this time; however as a result two men, a 44 year old man and a 40 year old man, were injured. The victims were taken to King Edward VII Memorial Hospital via ambulance for treatment. An active investigation is underway by the Serious Crimes Unit. Police are appealing for any witnesses or anyone with any information to contact 295-0011 or the independent confidential Crime Stoppers Bermuda hotline on 800-8477."
Update 11:06am: Acting Minister of National Security Walter Roban stated "I was saddened to hear that gun violence has rocked our community once again, particularly as we approach the holiday season in earnest.This incident is of particular concern, since my own district, Pembroke East, borders the area, and residents of the St. Monica's neighborhood appear to be continuously on the front line of so many of these unfortunate incidents. I have been appraised of this morning's events by Assistant Police Commissioner, Paul Wright, who has assured that a full investigation is underway. I want to encourage anyone with information to please cooperate with the Police investigation. Alternatively they can contact Crime Stoppers to provide information anonymously."
Update 1:30pm: Unofficial reports indicate one victim, the one seriously wounded, has just come out of surgery.
Update 1:45pm: Officials have confirmed with Bernews that both shooting victims are in the Intensive Care Unit of King Edward Memorial Hospital, and both are listed in critical condition.
Update 8:00pm: One victim, the 44-year-old, is now listed in stable condition in the ICU, while the 40-year-old man remains critical in the ICU.
Update Nov 28:As of 5:30am this morning [24 hours post shooting] they are no longer listed as critical – both listed as stable in the ICU.
Update Nov 28: As of 7:15pm they are still both listed as stable in the ICU
Read More About