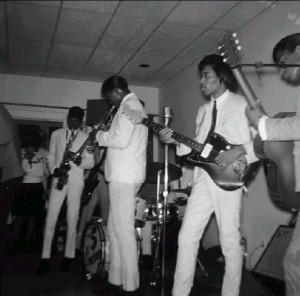 When Jimi Hendrix, then an obscure backing musician, upstaged his employers the Isley Brothers at a 1964 Bermuda Cup Match concert his potential to become the greatest guitar virtuoso in the world first became obvious not just to the local audience but also to the veteran performers who had hired him.
A  session guitarist at the time, the then 22-year-old Hendrix joined the Isleys in 1964 [he's pictured with them at left], performed on their Top 10 hit "Testify" and toured with the legendary R&B band to Canada and Bermuda.
"In 1964 the Isley Brothers were playing in Bermuda. Their backing band was out warming up the crowd when someone came into their dressing room and asked, 'Who's that guy out there'?," said New Zealand critic Graham Reid in an a review of a recently released four-CD set of  Hendrix rarities.
"Ronnie Isley says they peeked out 'and there was Jimmy, down on his knees biting his guitar and the crowd were just going crazy'. That Jimmy would, in less than three years, become Jimi Hendrix and his performances would amaze audiences as much as his guitar playing. But here was Jimmy, in the year of "A Hard Day's Night", being a sexy, bad-boy entertainer. No wonder Little Richard, the Isleys and other jobbing bands couldn't contain him."
"Testify" by the Isley Brothers featuring Jimi Hendrix
Isley Brothers lead singer Ronnie Isley has repeatedly told interviewers the star potential of the up-and-coming Seattle-born guitarist first became apparent at the Cup Match show: "Jimi joined us in the spring of 1964 …   Then we went to Bermuda.
"We played in a baseball [sic] stadium. We'd been advertised for months, so the place was filled and those who couldn't get seats were standing on hills overlooking the stadium. It was us and local talent. 'Our band backed the other acts.
"We were in the dressing room when we heard what sounded like a riot going on and we figured one of the local acts must have made a big hit … But it was Jimi."
Acclaimed by many critics as the greatest guitarist of all time, Jimi Hendrix was also one of the most important musical and cultural figures of the 1960s.
Jimi Hendrix performing Bob Dylan's "All Along The Watchtower"
After playing with such acts as the Isleys, Little Richard and Ike and Tina Turner, he formed his own band in New York in 1965, relocated to London in 1966 and became a superstar with such legendary albums as "Are You Experienced?", "Axis: Bold as Love" and "Electric Ladyland."
A left-hander who played a right-handed Fender Stratocaster upside down, Henrix's guitar playing fused the blues, jazz and rock with the distorted psychedelic sounds in vogue in the late 1960s.
A master showman as well as a master musician, he died in London in 1970 at the age of 27.
Read More About
Category: All, Entertainment, Music