The 2010 Optimist World Championships came to a close yesterday [Jan 7] in Malaysia, with 14-year-old Makai Joell the top Bermudian, placing 75th out of 231 sailors and along the way scored Bermuda's best race of the regatta, a very impressive 9th place finish in Race 1.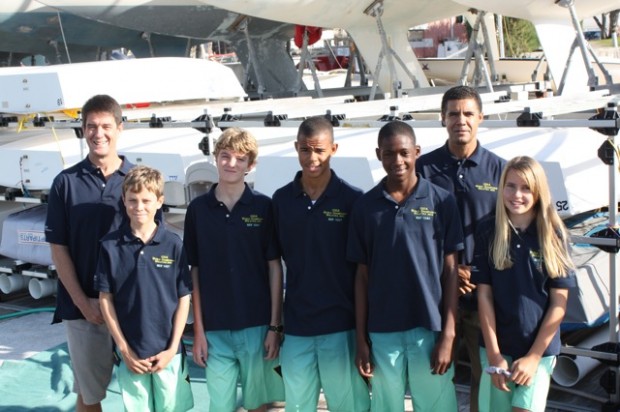 This was a "breakout " regatta for Joell, as the 14 year old had not originally qualified in the top five to attend the Worlds. Two sailors who had qualified ahead of both Joell and Wollmann chose not to attend allowing the two reserves to make up the 5 sailor team. Current National Champion Sam Stan was next in 93rd followed by Antonio Bailey in 169th, Ceci Wollmann in 198th and Chase Cooper in 208th. The team is now returning to Bermuda and are scheduled to arrive back tomorrow night.
Female Noppakao Poonpat of Thailand won the last race of the championship and became the Optimist World Champion 2010 in great style! After an OCS and a 16th in previous day's races, Noppakao could still be beaten by Ahmad Syukri Bin Abdul Azizended (Malaysia) but in true champion style she kept control of the race and lead almost from the start. The top 10 positions were dominated by Asian sailors with the exception of Marvin Firsch from Germany in 5th and Odile Van Aanholt in 9th. Both Firsch and Van Aanholt had trained in Bermuda this fall and had attended either the PwC National Championships or the RenRe Jr. Gold Cup as part of their preparation for the Worlds.
Team leader Anthony Bailey summed up the regatta by saying, " Although this Worlds' in now history, I believe the team learnt a lot about what it takes to be a world beater but more importantly over the past 16 days they also learnt a little bit about each other and the importance of "Team". As for Langkawi, which had earned the pre-regatta reputation as being a light air venue, of the fifteen races contested the majority of them were contested in wind that blew at least 12 knots and as previously reported for a few races the wind was blowing as much as 17 to 18 knots…today, 7 January 2011, was no exception as the wind was a steady 11 to 12 knots with a few gust up to 15 knots."
The sailors will start to train locally again at the end of the month and will begin to prepare and qualify for the next set of international events. Next is the IODA South American Championships in Algarrobo, Chile in April followed by the IODA North American Championships in Long Beach, California in late June. Next year's World Championships will be held in Napier, New Zealand in December. All five of this year's World's team will be eligible to qualify for that event.
The Team would like to thank sponsors, Apsen Re, Kitson Group of Companies, The Bermuda Sailing Association and the Cox family for making this event possible. Final results, photos and team info is available on their blog Bodasailing.blogspot.com.
Read More About