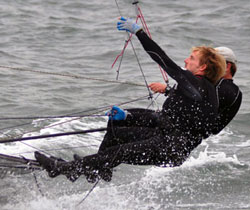 Olympic hopefuls, brothers Jesse and Zander Kirkland have arrived in Palma, to begin their important 2011 Euro ISAF World Cup campaign, which will be crucial in preparing for the 2011 World Championships to be held in the end of the year in Australia.
Zander Kirkland said, "It has been just under 5 weeks since we have last seen a 49er and we both have the itch to get back in the boat. The time away, this will be our biggest break of the year from the boat has been great and the break was strategically planned to avoid burn out problems as this busy year on the circuit cranks up."
Jesse Kirkland said, "We were busy during the furlough and were able to inject some balance in our life. We fundraised, painted houses, coached, pursued our other passions (soccer and surfing), caught up with friends and family, and planned for the rest of year. The other cool aspect of all of this was talking to all our friends who were wishing us their best. It really helps us get us psyched up for what we are doing because sometimes when you are immersed in challenges associated with the campaign you can lose site of the big picture and to know that we do have a ton of support is huge."
"'Seamount Sled', our newish boat, is here and we can't wait to get her rigged up and feel the STIFF boat. One logistical reality is that our rig is in the American container which is still en transit, so we will have to see how that comes together. We have some boat work to do anyways and so hopefully it will not prove to be too big of a hiccup. The Americans were very generous to help us with our rig transportation across the Atlantic, an expensive proposition, so we will have to work around this reality," concluded Zander.
Read More About