The medal-winning Bermuda Track and Field Carifta Team arrived back in Bermuda last night [Apr.26] to a crowd filled LF Wade International Airport.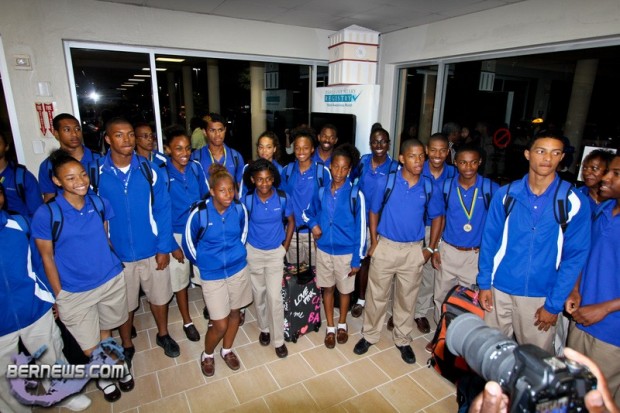 Minister of Youth, Families, Sports and Community Development Glenn Blakeney said, "I was extremely proud of the way our youngsters performed, Jamaica put on a excellent event and will have a tough act to follow but I believe we can do a magnificent job next year."
The team won six medals in total, and received some well earned applause as they walked through the airport.
BTFA President Donna Watson who said next year the other islands better "watch out", as Bermuda will be "coming at them hard and tough". Bermuda will host the 2012 Carifta Games.
Bruce DeGrilla, who won a silver medal when his fifth leap of 6.94m saw him finish second in the U/17 Boy's Long Jump:
Shaquille Dill captured the silver medal when he finished second in the U/20 Boy's 800m race.  This is his second consecutive year winning the silver medal in the Carifta 800m, and he said he will be training hard and looking for the win in 2012:
Kyrah Scraders, who won a medal in the 1500m:
Justin Donawa, who won a medal in the triple jump:
Dage Minors returned to school abroad after winning a medal in the 3000m, which returned to Bermuda around the neck of his very proud mother. In the video below his mother speaks – well tries to – after losing her voice cheering her son and fellow athletes on through the competition:
Ashley Berry, who put on a silver medal winning performance, did not return to Bermuda with the team, instead heading back to university abroad.
Read More About