[Updated with videos] The One Bermuda Alliance hosted their first press conference this afternoon [May 17], launched their new website, and named Craig Cannonier, Michael Dunkley and Dr Katherine Michelmore as 'Senators Designate.'
Pictured below left to right are Dr Katherine Michelmore, Michael Fahy, John Barritt, Craig Cannonier, Bob Richards and Trevor Moniz: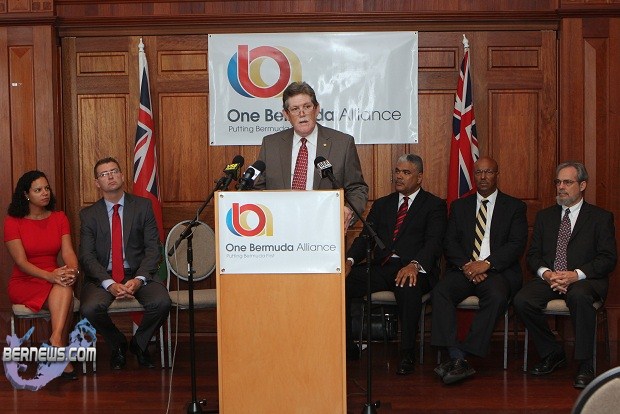 On May 3, members of the UBP voted to dissolve the party and merge with the BDA to form the OBA.  Not all were in agreement, as on May 10 UBP leader Kim Swan, MP Charles Swan and others launched legal action seeking to stop the UBP from dissolving. However seven UBP MPs resigned from the party to join the OBA. Kim Swan and Charles Swan remain as the only two UBP MPs.
The BDA has been dissolved, and their three MPs [Donte Hunt, Mark Pettingill and Shawn Crockwell] joined with the UBP MPs to form the OBA. The three were originally UBP MPs, splitting from the UBP's Parliamentary ranks to form the Bermuda Democratic Alliance in 2009.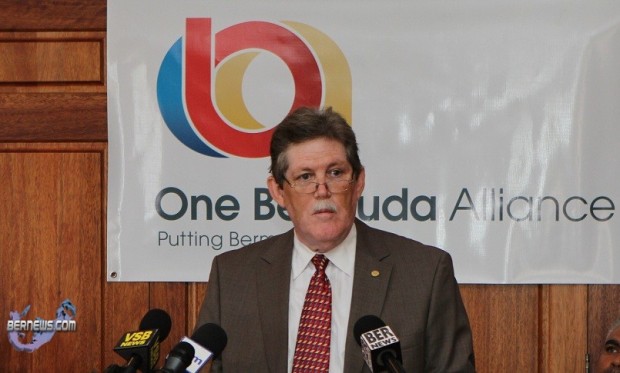 OBA Interim leader John Barritt was sworn-in as new Opposition Leader at a Government House ceremony this morning, while former BDA Leader Craig Cannonier has been named Deputy Leader of the One Bermuda Alliance.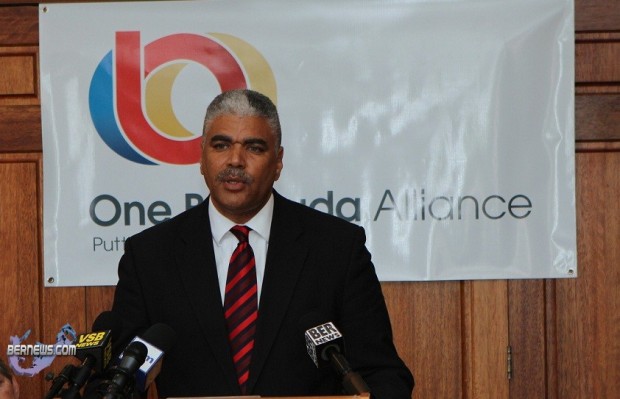 Former BDA Leader Craig Cannonier, former UBP Senator Michael Dunkley and former BDA supporter Dr Katherine Michelmore were named as 'Senators Designate,' which effectively removes UBP Senators Jeanne Atherden and Suzann Roberts Holshouser.
Video statement from Senate Designate Dr Katherine Michelmore:
The group launched their online presence at approximately 1pm today, when their new website OBA.bm went live. In addition, they have started a Facebook group as well as a Twitter account.
Video statement from Senator Michael Dunkley:
Ex-UBP Senator and Former BDA Chairman Michael Fahy as been named as OBA Chairman, while Michael W. Branco has been named as Deputy Chairman.
OBA Interim Leader John Barritt's full remarks follow below:
My name is John Barritt and I am here today with colleagues and friends to announce the formation of One Bermuda Alliance.

Before I address aspects the OBA's mission and make-up, I want to talk briefly about circumstances that have brought us to this decision.

Few people will disagree that Bermuda is in serious trouble.

Gang-related shootings are tearing apart families and communities.
Unemployment has become a fact of life for thousands – putting tremendous strain on families.
Massive national debt has forced cutbacks in basic public services.
Education failures continue to short-change our children, narrowing their opportunities in life.

These issues, and others, are in our face every day. They are tearing at the very core of who we are as Bermudians, undermining our way of life and threatening our future.

Thousands of lives have become more difficult, more stressful, and there is no end in sight.

Despite the alarming situation, the current government gives no confidence it knows how to get the island back on track. We hear talks, lots of talks but

No real plans to restore jobs
No sustained, over-arching plan to solve gang violence, and
No urgency, no real commitment to end the education crisis.

What we do see is the blowback from years of reckless Government spending now hobbling its ability to

operate ferries and buses,
fund critical Police operations,
support struggling families and charities, and
protect seniors from rising health care costs.

We consider Bermuda's situation to be extremely serious and urgent, requiring a unified response. We intend to provide the country with the opportunity, and hope, to get it back on track. We are a committed group of people – Parliamentarians and non- Parliamentarians, formerly of the UBP and the BDA – who've elected to join together and to put Bermuda first. There are people who wanted us to postpone this launch day, but waiting is not an option. The time to act is now. The levels of stress, anxiety and frustration in the community are not going away under the current conditions.

We are not alone with our concerns. Bermuda is crying out for change, for change in the way we practice politics and in the way we conduct the people's business. We've heard it loud and clear: People want a new approach, they want a new direction. We firmly believe that the people of Bermuda want us to come together, to put aside old political and personal differences to work together for the good of the country. That is what we are committed to doing, and we are demonstrating that commitment by working together through the formation of an entirely new party.

The OBA wants to be the agent for change, and that is reflected in how we've set up the party.

Let me share with you an example of what I mean; an example of the commitment I am prepared to make for the change that is required: It was agreed that whoever became the interim leader should not be a candidate in the leadership convention, which should take place in four month's time. That is the role I'm playing.

The leadership contest is open to anybody, and since the Bermuda Constitution says a party leader must have a seat in the House of Assembly, I have indicated that I am prepared to step down to make way for that new leader should he or she not already be a Member of Parliament.

I have committed to this role because there can be no change without people willing to make change. That is my particular commitment to the One Bermuda Alliance and to change.

Each member of the OBA has stepped out of their comfort zone to be an agent of change. They put aside party loyalty and identity to put Bermuda first. This is no small thing.

For example, it is natural to feel some sense of loss at giving up a lifelong association or a more recent commitment that held such promise. Past members of the UBP can reflect on that party's long list of achievements – from desegregation of schools, the creation of Bermuda College, CURE legislation, health care and pension legislation, sound economic management and full employment to name but a few. On the other hand, I recognize that other people will continue to see the UBP associated with a historical legacy of white privilege, and the failure to do enough to benefit the black Bermudian and Portuguese community.

Even today, the legacy of slavery, segregation and institutionalized racism persists. As a former member of the UBP and as a member of the wider Bermuda community, I recognize and acknowledge this and carry into the OBA the commitment to work for an equitable and fair community.

Hopefully, our actions today and going forward will resonate and find echo with the many who have been turned off by the same old, same old UBP/PLP dynamic that has dominated our politics. It is from this that we turn away today.

The OBA welcomes people who have been discouraged and disillusioned by the old, tired ways of doing politics and who are looking for a new home to chart a new course for change.

We invite them to come forward now at the beginning to help shape the OBA and the direction it takes.

For example, the finalization of the party's Constitution will take place in the months leading to the leadership convention. This work will be open to anyone who wants to join us at the ground level as we make a fresh start for a new beginning.

The same will be true for our policies and positions on issues of the day: The work of our Shadow Ministers will be strengthened by party spokesmen who will take an active role in the development of party policy through shadow boards.

I want to take a moment to emphasize that the formation of the OBA is not just about creating a stronger Opposition. We are doing this to provide Bermuda with an alternative government.

This will take more than a single press conference to present, but today I want to provide you with some idea of the principles governing our work and the directions we would like to move the country.

We will put Bermuda first at all times and in all possible ways. The Government has not always followed that principle and it lies at the centre of much that has gone wrong.
We believe Bermuda works better when its people work together. We will push to make our Parliamentary system more inclusive and more collaborative for the public and Parliamentarians.
We will work towards growing the economy to full employment.
We will work to balance the budget, get public debt under control and reduce red tape to improve our competitiveness.
We will work for a ceasefire on the streets, and begin to address the underlying causes of crime.
We will focus on ending the education crisis once and for all.
We will begin to reform government to ensure fairness, equity and transparency.

Bermuda needs a government with a clear vision and clear goals and the know-how to achieve them. It needs a government that helps people meet the challenges in their day-to-day lives.

The OBA already has an excellent mix of people with fresh ideas and energy and experienced hands to start us on the way to making the changes Bermuda needs. Notwithstanding this, our plans and preparations have already been met by the usual critics and naysayers, some of whom would prefer that we not even get off the ground. We are beyond that now. We are simply looking to create the opportunity to foster positive change for Bermuda and, with the help of others, to help this country succeed. Our focus will be on easing the problems and pressures facing the people of this country. We think the public will support that work.

We want to earn your support and trust, one person at a time. Rome was not built in a day.

We are building from the ground up to give everyone an opportunity for a new beginning and a fresh start.

For those who want to learn more about us, I invite you to visit our website at www.oba.bm.
Remarks by the Craig Cannonier, Deputy Leader of the One Bermuda Alliance, follow below:
I am honored to stand here today at this moment in the history of Bermuda. I want to thank my family – my wife, my children and my mother. She cannot be here today because of illness in the family, but I know she is praying for me and thinking of all of us today.

I also want to thank all the former members of the BDA and UBP who put aside party loyalties and put Bermuda first.

A few years ago I did not know John Barritt and I may have made conclusions about him without getting to know him. And possibly, he might have done the same with me. However, today, I have come to know John as a man who cares deeply about this country and who has the experience and passion to lead this organization.

Many will try to define what happened here, but I will tell you that for me the highlight was getting to know individuals whom I would otherwise not have gotten to know.

Healing begins with communication and communication leads to understanding. This is the essence of one Bermuda.
We have gathered here today because Bermuda is confronted by an array of challenges that are tearing at the very core of who we are. All are affected one way or another, no one is immune.

These challenges demand a unified, dedicated response; one that has been lacking in recent years. They demand a response that is not just about party, but about purpose.

Martin Luther King Jr. once spoke of the "fierce urgency of now," and that powerful recognition is the trigger behind the formation of the OBA. We have to act now. The problems we face are growing, not decreasing. The future of the country is at stake.

We cannot wait to start tomorrow. We start today.

We cannot accept business as usual. We must start to build on common ground, and stop dwelling in the spaces that separate us.
We have set aside party loyalties for the sake of the country. Our mission is to put Bermuda first, because that is what has been missing.

I have talked to thousands of Bermudians over the past year and I hear the same concern: 'Something is wrong. Something is not right. Who would have thought that we would have multiple killings in one week. There was a time when this was unheard of in Bermuda and this Government wants to go on like business as usual. When I think about those families and the lives that could have been, I will not go on like business as usual we must end the gang violence now. This is not the Bermuda I know. This is not the Bermuda I want.'

People feel the government is not responsive to their needs. They feel its ministers are disconnected, not just from everyday realities but from any sense of responsibility – from any sense of accountability – for the protection and welfare of Mr. and Mrs. Bermuda. People want solutions. They do not see them and they are not confident this government has them.

There are those that will try to downplay or define what is happening here today into something negative. They will want the people of this country to think that the OBA is nothing more than business as usual; that we are old wine in a new bottle. They will try to fool you into thinking this was some backroom deal. They will invoke the past, rather than look to the future. They will want to distract from the declines that are gripping Bermuda and the lack of effective leadership that provides no real solutions.

Well, I am here to put Bermuda on notice that we are going to every home, every neighborhood every church every business to every community to invite those who care about the future of this country to join with us, to work together for solutions, to put Bermuda first.

We will:

reduce government debt to sustainable levels and balance the budget within our first term by reducing administrative red tape and increasing fiscal responsibility
lead by example by slashing Ministerial pay by at least 10% and hold Ministers accountable for their actions
get Bermudians back to work by supporting international business, rebuilding tourism and allocating more government contracts to small business
restore safety and security to Bermuda and end gang violence by providing the police with proper funding for modern technology and 24/7 patrols
reform public education and create opportunity by significantly improving classroom effectiveness, introducing a fully integrated technical curriculum and a longer school day
increase democracy by having fixed term elections, right to petition for referendums and recall of MP's

Bermuda you will have a voice in the OBA. You will have a voice in the future of your country. This is your party.
And through our work together, we will restore hope in a brighter future, and restore confidence in what we can do as Bermudians.

The OBA will be about bringing forward the best we can be for our country. We will not forget our roots. We will not forget the meaning of public service. We will not lose our way. We will put Bermuda first.

I am proud to be here today with John and my colleagues; proud to be starting this journey together.

Truly it is a new day.

Thank you.
Update: Full 11 minute video of OBA Leader John Barritt's speech at the press conference:
Update: Full 10 minute video of OBA Deputy Leader Craig Cannonier's speech:
Read More About