[Updated] With hundreds of people present at this morning's [Sept.5] Labour Day celebrations outside BIU headquarters on Union Street, there were speeches by key political and Union figures after the traditional Labour Day race and prize presentations.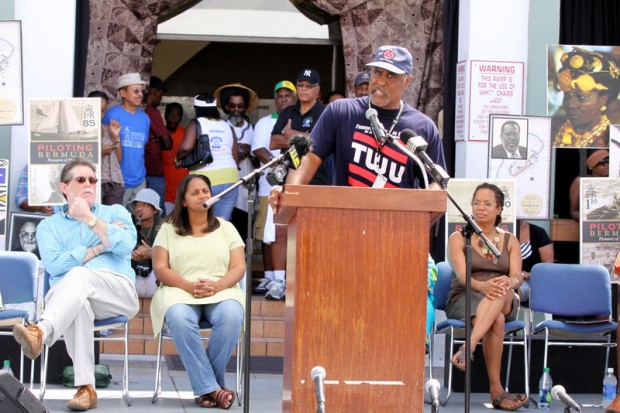 Premier and Finance Minister, Paula Cox led off the speeches, speaking of ordinary people doing extraordinary things and the need for "blood, sweat and tears."
She said, "30 years ago Bermuda's workers joined together in a massive show of strength. The General Strike of 1981 demonstrated an awesome power of the combined Trade Union movement. The strike brought our workers together on common ground and it forced the then-Government to come face to face with the reality…"
Premier Paula Cox's speech [11 minutes]:
Minister Kim Wilson also spoke and offered the view that Bermuda's economy has moved on and that there was a need to rely on each other as had never happened before.
Minister Wilson said, "And as we celebrate today, let us not forget individuals like the father of the labour movement, Dr. E. F. Gordon… the mother of the movement, Dr. Barbara Ball… and other pioneers who carried on their vision… individuals like Brother Ottiwell Simmons… my colleague the Hon. Derrick V. Burgess… and my grandfather Robert Austin Wilson, who blazed a trail for not only the union, but in our family as well."
"It was my grandfather the late Robert Austin Wilson, Trade Unionist, who instilled in me a spirit of advocacy and a character of discipline, dedication and commitment. It was at his feet where I came to understand the core principles of trade unionism." [Full text of speech here]
Minister Wilson's speech [9 mins]:
During his time at the podium, Minister Michael Weeks spoke of the government sponsored training programs that are offered to Bermudians who need or want to upgrade or expand their skills.
Minister Weeks' speech [6 mins]:
Interim Opposition Leader and OBA representative John Barritt admitted that he had not been born and bred as a member of a trades union or in a family with such a background.
He said: "I am a man of some privilege, but that doesn't mean, it must never be thought to mean I discount or undervalue in any way the work of Unions in this country. The history is there for all to read." He went on to say that the time for change is here, and that Bermuda needs to raise its game.
Mr Barritts' speech [8 mins]:
BIU President Chris Furbert noted they were celebrating the 30th anniversary of Labour Day in Bermuda. He said, "Trade Unions don't have an easy job as we have to find a balance between what our members want, and what the public thinks about what we doing."
"Because too many times when we make decision, the members say you're in bed with the MPs, you're in bed with this person. It's a very difficult task – excuse the expression – we are damned if we do, damned if we don't.
Mr Furbert's closing [2 1/2 mins]:
Other Parliamentarians present included OBA leader-contender Bob Richards, MP; Ministers Zane DeSilva, Michael Scott, Walter Roban, Wayne Perinchief, Patrice Minors, Glenn Blakeney, Derrick Burgess. MP Dale Butler, MP Wayne Furbert, Senator Laverne Furbert, MP Kim Swan and 95-year-old ex-Speaker of the House John Barritt Sr, father of MP John Barritt, were also present.
Following the speeches, and with a majorette troupe leading and bringing up the rear, BIU members set off on a march through Hamilton, which you can view photos and videos of here.
Read More About