[Updated – The game has ended, with Bermuda winning 2:1. Barbados took the early lead in the 7th minute, their goalkeeper received a red card and was sent off in the 25th minute, and then Bermuda captain Khano Smith converted a penalty in the 27th minute to equalize. The two teams went into the second half 1:1.
The second half started with Bermuda's 16-year-old goalkeeper Dale Eve making his debut and coming on in place of Mikkail Crockwell in the 46th minute. Kwame Steede then scored for Bermuda in the 49th minute to make the score 2:1. Barbados could not equalize, and the game ended 2:1, with Bermuda picking up the win]
Bermuda take on Barbados this afternoon [Nov.11] in a World Cup CONCACAF Qualifier match starting at 3pm. Bermuda will play Barbados twice – today and Monday, November 14th at 8pm to mark the team's last two games of the qualifiers. So far Bermuda has lost 2:1 and drew 1:1 with Guyana, and lost 1:0 and won 2:1 against Trinidad and Tobago, and will not advance to the next round. All video filming is prohibited, however we will bring you live text updates.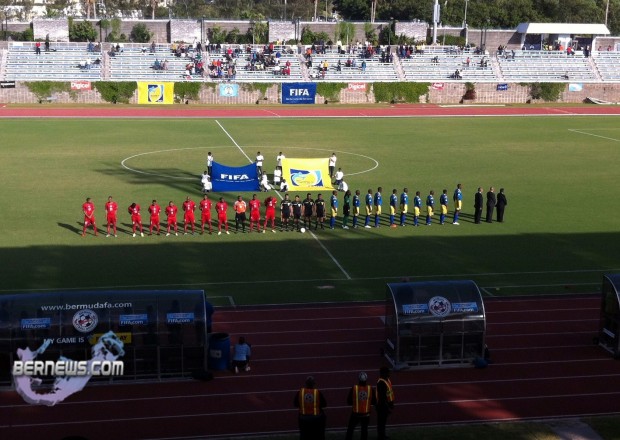 Bermuda's Starting line-up as listed by FIFA: Mikkail Crockwell, John Nusum, Tyrrell Burgess Damon Ming, Andre Manders, Quadir Maynard, Domico Coddington, Devaun Degraff, Kwame Steede, Khano Smith, and Devrae Tankard. Substitutes: Dale Eve, Seion Darrell, Kamen Tucker, Lashun Dill, Marquel Waldron, Angelo Simmons, and Reggie Lambe.
Update 3.06pm: The game is underway score 0 – 0.
Update 3.07pm: Diquan Adamson of Barbados scored, it is now 1 – 0.
Update 3.20pm: Bermuda almost equalizes in 14th minute, but shot blocked by Barbados goalkeeper.
Update 3.35pm: Another shot blocked, Domico Coddington's header saved by the Barbados keeper.
Update 3.28pm: Barbados goalkeeper Jason Boxhill given red card for bringing down Damon Ming inside the area, sent off the field in the 25th minute.
Update 3.30pm: Bermuda equalizes on a penalty! Khano Smith scored in the 27th minute. Score now 1 – 1.
Update 3.40pm: Barbados substituted Kyle Gibson for Bentley Springer in the 26th minute, and Rommel Burgess for John Parris in the 33rd minute. Springer has gone into goal for the 10-man Barbados team. Norman Forde of Barbados received a yellow card in the 45th minute.
Update 3.51pm: Now half-time.  Score 1 – 1. Dance group performing on field.
Update 4.07pm: Second half started. Loud applause could be heard as Bermuda made a substitute – with 16-year-old goalkeeper Dale Eve coming on in place of Mikkail Crockwell in the 46th minute.
Update 4.11pm: Bermuda's Kwame Steede scores in the 49th minute! Its now 2 – 1. Steede got a cross from Quadir Maynard at the back post and slammed the ball past substitute goalkeeper Bentley Springer.
Update 4.32pm: Score remains 2 – 1. In the 63rd minute Bermuda's Quadir Maynard was substituted for Reggie Lambe. In the 50th minute Barbados' Renaldo Marques was shown the yellow card, as was Bermuda's Tyrrell Burgess in the 69th minute.
Update 4.41pm: In the 70th minute Bermuda's Devaun Degraff came off, with Angelo Simmons being substituted.
Update 4.55pm: Game over, Bermuda wins 2 – 1. Click to enlarge photos below.
Read More About