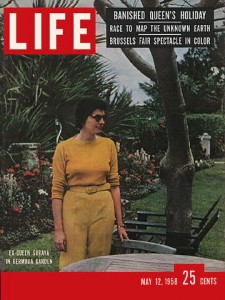 Iran's former empress, New York's mayor and the Duke of Edinburgh are among the celebrities filmed against Bermuda backdrops in a 1959 promotional film extolling the island as a dream location for vacationing photographers.
"Portrait of Bermuda" was released by the Bermuda Trade Development Board, aimed at the mushrooming market of well-heeled amateur shutterbugs which developed during the post-World War Two consumer boom in the US.
The short film features eye-catching Bermuda scenery ranging from the South Shore beaches to St. Peter's Church. It also includes shots of flower-bedecked floats participating in the island's old Easter Floral Parade, Prince Philip's two-day visit to Bermuda in 1959 to take part in events commemorating the 350th anniversary of the "Sea Venture" wreck and diver Teddy Tucker's fabled emerald cross and other treasures retrieved from shipwrecks.
Photographers are even encouraged to frame their shots using Bermuda moon gates in the film, widely distributed to US cinemas and TV stations.
Some of the most intriguing footage features a scrum of international press photographers surrounding Iran's former empress during a 1958 Bermuda vacation.
Soraya — given the title Princess of Iran after the Shah divorced her because she was unable to produce an heir — was an international celebrity at the time, her every move tracked by the paparazzi.
"Life" Photo Of Soraya, Princess of Iran, Water-Skiing In Bermuda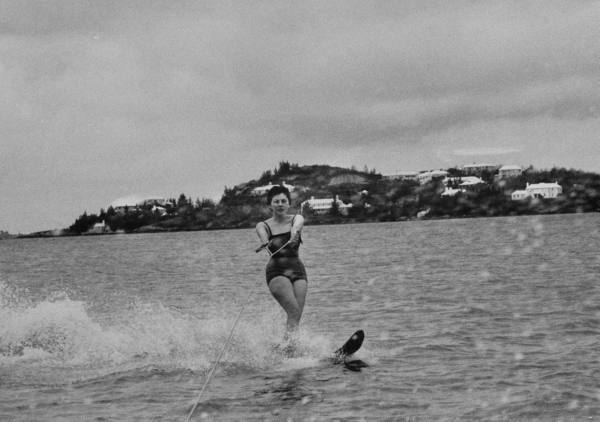 One of the most glamorous women of her day, Soraya married Shah Mohammad Reza Pahlavi in Tehran in 1951.
The imperial couple's marriage  disintegrated by early 1958 owing to Soraya's apparent infertility, for which she had sought treatment in Switzerland and France.
She left Iran in February and eventually went to her parents' home in Cologne, Germany, where the Shah sent his wife's uncle, Senator Sardar Assad Bakhtiari in early March 1958, in a failed attempt to convince her to return to Iran.
Later that month it was announced  the imperial couple would divorce. It was, the 25-year-old queen said, "a sacrifice of my own happiness".
She later told reporters that her husband had no choice but to divorce her.
On 21 March 1958, the Iranian New Year's Day, a weeping Shah announced his divorce to the Iranian people in a speech that was broadcast on radio and television; he said that he would not remarry in haste.
The marriage was officially ended on April 6, 1958 and the former empress retreated to a Bermuda guest house in May to try and escape the attention of the world's press corps.
Journalists followed her to the island [she is featured at her Bermuda guest house on the cover of "Life" magazine at top] and her sojourn here made front page news around the world.
A fixture on the international social circuit and a sometime actress, she died in 2001. Her former husband re-married in 1959 and had four chldren with his new wife, the former Fara Diba.
He was overthrown by a revolution headed by fundamentalist Muslim cleric Ayatollah Ruhollah Khomeni in 1979 and died in exile in Egypt the following year — having been denied permission by Bermuda's Government to bring his family to the island.
Trade Development Board Film "Portrait Of Bermuda", Released In 1959
Read More About