The Minister of Business Development and Tourism Wayne Furbert named Boston-based Fuseideas as the Bermuda Department of Tourism's [BDOT] advertising agency of record in North America, with an estimated one year budget of $13 million.
According to Minister Furbert, Fuseideas "impressed the search committee with an in-depth marketing solution to drive tourism that included a mix of segmentation, media, technology, creative and social marketing, all seamlessly brought together."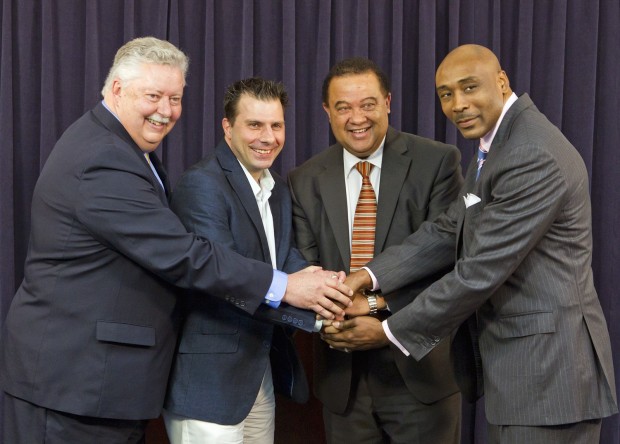 Photo above shows L to R: Steve Mason Managing Director of Fuseideas, Dennis Franczak, Founder CEO of Fuseideas, Tourism Minister Wayne Furbert and Monroe Blakes Executive Vice President Fuseideas.
In highlighting the process of how Fuseideas was chosen, Minister Furbert advised that that the BDOT issued an open Request For Proposal [RFP] November 2011, seeking suitable companies to submit bids for the account, and in response, 29 companies answered the RFP.
The company was selected by a ten member panel that included members from the Tourism Board, the Bermuda Hotel Association [BHA], and BDOT technical officers. The contract term will be for one year in the first instance, and the company will be subject to a formal performance review at that time.
The marketing solution, along with Fuseideas' overall experience in tourism marketing [including Maine Office of Tourism, Collette Vacations, Massachusetts Office of Travel and Tourism, and Visit Florida] made the agency stand out.
Minister Furbert said, "We are very excited for Fuseideas to bring their energy, creativity and experience to Bermuda. They will work closely with our Tourism team to develop an eye-catching campaign that will differentiate Bermuda and put us top of mind with our target audience."
According to Dennis Franczak, Founder CEO of Fuseideas, campaign elements for the BDOT will include "breakthrough creative across all channels, advanced mobile and web technology, in-depth analytics and campaign optimization and social marketing integration." Work is expected to break in May.
"Our creativity infused with technology is ready to attract more visitors to the pink sand beaches of Bermuda, and we look forward to engaging the entire island when launching this authentic Bermudian campaign," Mr. Franczak said.
Fuseideas is a 50-person international agency with its main headquarters in Boston, with offices in Prague, Portland, Maine and Los Angeles. Their areas of expertise include tourism, economic development, higher education, retail and lifestyle, multicultural, youth and sports and entertainment marketing.
Current clients include Adidas, Bermuda Department of Tourism, ESPN, Massachusetts State Lottery, HBO Latin America and Univision, Verizon Wireless and Virginia Commonwealth University.
Read More About