The Argus Group has made a significant donation to The Reading Clinic to help fund a major expansion of the charity's Serpentine Road facility in Hamilton, due to be completed by September 2012.
The project is also backed financially by Aspen Bermuda Limited and an anonymous Foundation. The sponsorship provided by the three organisations will enable The Reading Clinic to reach more individuals and provide greater support for children who learn differently.
Photo below: Joy Pimental, Head of Client Management, Argus; Shkysi Cummings, President, The Reading Clinic; Lauren Bell, Executive Vice President, Life & Pensions, Argus; Dr. Julie Dunstan, Executive Director, The Reading Clinic; ; Alison Hill, CEO, Argus; and John Doherty, Executive Vice President, Property and Casualty, Argus; and Maria McLeod-Smith, Customer Services Manager, Argus.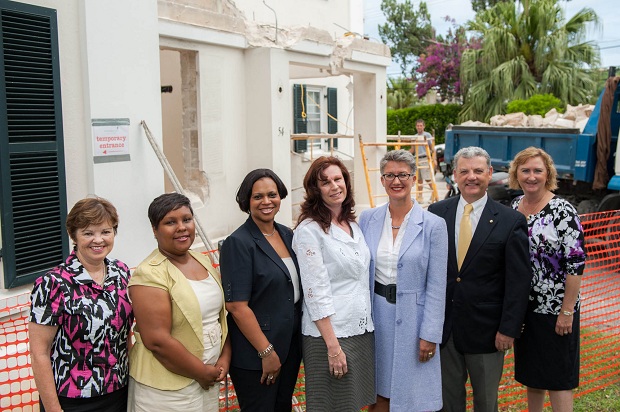 The Reading Clinic is a registered charity that promotes literacy and numeracy through research-based practices designed to empower children in Bermuda with dyslexia and other learning difficulties. It is estimated that one in every five children has a learning difficulty.
This year, The Reading Clinic will deliver over 4,000 one-on-one reading lessons, over 1,600 one-on-one math lessons, 200 hours of diagnostic assessments and more than 50 hours of workshops for educators and parents.
Expanding its facility will allow The Reading Clinic to offer more timed tutoring slots, the availability of which are currently outstripped by demand due to recent increases in the number of students in its Core Reading and ICAN math programmes. It will also allow the charity to provide more integrated services under one roof to improve outcomes for children with multiple needs.
Dr. Julie Dunstan, Executive Director, The Reading Clinic, says: "We are sincerely grateful for the incredible generosity of Argus, Aspen and the anonymous donor that has turned our expansion plans into reality and helped us to fulfil the Board's Strategic Plan.
"At The Reading Clinic, we see a Bermuda where individuals with learning differences are valued as meaningful contributors to a thriving community. This project represents a pivotal step in realising this vision.
"Research we conducted as early as 1999 revealed that 28 per cent of inmates in Bermuda's correctional facilities were functionally illiterate. Clearly intervening and helping children who become trapped in a downward spiral of anxiety, frustration and low self-esteem as a result of learning difficulties is vital to our island's sustainability.
"A bigger space in which to operate will enable us to empower even more individuals to overcome their challenges and use their talents to secure brighter futures for themselves and for Bermuda."
Alison Hill, Chief Executive Officer, The Argus Group, says: "The Reading Clinic and Argus share a long history of providing support to the Bermuda community. Our Charitable Donations Committee saw an affinity between the theme of prevention, which underpins our corporate giving programme along with each area of our business, and the role The Reading Clinic plays in helping to avoid secondary problems associated with learning difficulties, including anti-social behaviour, low self-esteem and criminal involvement."
James Few, Chief Executive Officer of Aspen Bermuda Limited, adds: "Key industries in Bermuda demand a highly literate and numerate workforce, which means The Reading Clinic has an integral role to play in strengthening the island's economy, which Aspen is proud to support."
In 1968, The Reading Clinic was launched to provide services to children with learning differences from all backgrounds, operating out of the home of its founder, Mrs. Elizabeth Kitson.
The charity moved into its purpose-built facility, which currently comprises four staff offices, two rented office spaces, five tutoring rooms and a library, in 1991. This latest addition will enable The Reading Clinic to enhance the community of professionals within the facility to further meet the needs of children with learning differences.
The Reading Clinic's services include structured, multi-sensory and phonetic instruction in reading and spelling; multisensory, strategy-based math instruction; a preschool project to promote emerging literacy skills; neurodevelopmental/psycho-educational assessments; family consultations; as well as consultations and workshops for educators.
The Reading Clinic relies heavily on volunteers and individual and corporate donations for more than 80 per cent of their budget, to serve over 160 children each year at an approximate annual cost of $5,400 per student. For more information, please call 292-3938.
Read More About
Category: All