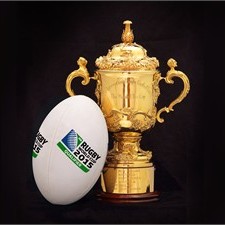 The Bermuda National Rugby Team defeated the Bahamas 16-8 today [June 9], and will now advance to the Caribbean Final where they will play Guyana.
The match took place at the Winton Rugby Pitch in the Bahamas in an overly physical game in 90+ degrees and similar humidity.
Jahan Cedenio scored Bermuda's try with Ian Henderson adding 11 points with the boot with 2 Penalties, a drop kick and a Conversion.
Bermuda went in front in the 10th minute when Henderson Kicked a Penalty, minutes later Bahamas pulled even with a Penalty of their own. The Bahamas went ahead 8 – 3 with a try after 23 minutes, however the Conversion was missed.
Henderson's second penalty pulled Bermuda with two points after 28 minutes, seven minutes later Bermuda went up 9 – 8 with Henderson's Drop-Kick, they would hold the lead at the break.
With 16 minutes remaining Cedenio scored his try and Henderson kicked the Conversion to give Bermuda the 16 – 8 lead and the win.
Bermuda National Rugby Squad:
1. Paul Dobinson (Renegades)
2. Dustin Archibald (Mariners)
3. Jahan Cedenio (Renegades)
4. Thomas Greenslade (Teachers)
5. Mike Williams (Renegades)
6. David Rourke (Mariners)
7. Bobby Hurdle (Teachers)
8. Peter Dunkerley (Renegades)
9. Andrew Hook (Teachers)
10. Darren Richardson (Police)
11. Tony Ward (Mariners)
12. Pete Dunlop (Teachers)
13. Henry Paddison (Teachers)
14. Tom Healy (Renegades)
15. Ian Henderson (Renegades)
16. Paull Davis (Police)
17. Lachie Armour (Mariners)
18. Tom Edwards (Police)
19. Jack Ellison (Teachers)
20. Neville Zuill (Police)
21. David Pringle (Police)
22. Chris Naylor (Teachers)
Read More About