Digicel released a copy of the Government's letter to them, and responded to what they termed an "acerbic statement" by Minister of Environment, Planning and Infrastructure Strategy Marc Bean in the House of Assembly yesterday [June 8].
The two entities are presently embroiled in a dispute over Digicel's ability to provide International Long Distance services. This dispute involves other local telecommunications providers and is currently before the Courts.
On Thursday [June 7] Digicel said they believe Government has "acted appallingly" and has "victimised Digicel by rescinding the approvals granted."
Minister Bean responded to Digicel's statement in the House of Assembly, calling their statement "harmful, unsubstantiated and self-serving."
"Although I do not wish to follow along the same sad path as Digicel and attempt to usurp the dignity of our Courts, I am obliged to set the record straight, as the personal and dangerous allegations and statements of Digicel cannot be allowed to stand without a response," said Minister Bean yesterday.
The latest statement from Digicel said, "Following the acerbic statement by the Hon. Marc A. R. Bean, JP, MP, Minister of Environment, Planning and Infrastructure Strategy this morning (delivered under the protection of Parliamentary Privilege), Digicel wishes to restate the simple and inarguable fact that it received express approval from the Government to purchase Transact for the purpose of selling ILD services.
"This same Government is now defaulting on its express approval and is pretending as if this approval never happened," Digicel said.
"As such, Digicel feels it is necessary at this point to publicly share a letter [PDF] dated October 20th 2011, issued to it by the Government, which expressly records and confirms the approval granted to Digicel to provide ILD services over VOIP using Transact's class C license.
A screenshot of portion of the letter is below: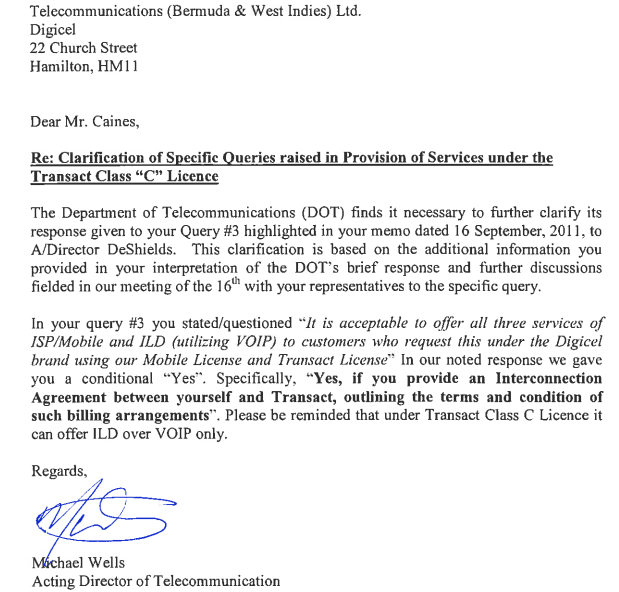 "This letter is irrefutable evidence supporting Digicel's view that it is being treated unfairly. This is why Digicel has "sought to cast doubt" on the decisions of the Government which, on the one hand, approved the acquisition of Transact for the purpose of selling ILD services, and on the other hand, has sought to now block the provision of such ILD services.
"Digicel would like to ask why did the Minister completely side-step and ignore this issue in his statement this morning – the issue at the very crux of Digicel's case.
"By giving Digicel express Government permission and then challenging its own approval, Digicel believes members of this Government are acting with a bizarre and troubling inconsistency.
"Digicel has no issue with a legal challenge, but when such a challenge is based on inaccuracies and misinformation, Digicel has a right to defend itself and has an obligation to defend its customers.
"Over the last 12 years, Digicel has built a reputation across every market in which it operates as being a champion of competition and the consumer, and it does not apologise for taking a position contrary to the Bermuda Government in order to defend this hard-earned reputation.
"Further, Digicel is speaking in the public domain simply because it is necessary at this point to defend our reputation which, over the last nine months, has been gravely damaged both locally and internationally by the Bermuda Government through its actions," the statement said.
"Since Digicel's launch of ILD services, the costs of international calls have dropped 66% – benefiting Bermudian customers. This is not the act of a dominant player – rather the champion of competition which fundamentally benefits Bermudian consumers and businesses.
Digicel's statement concluded by saying, "The question, Minister, is simply this – did the Government approve Digicel/Transact's ILD service? Your letter says you did."
The letter provided by Digicel is below:
Read More About
Category: All, Business, News, Politics, technology