On Sunday afternoon [June 17] contestants from the 2011 and 2012 Miss Bermuda Pageant joined reigning title holder Jana Outerbridge at the St. George's Community Centre.
Miss Outerbridge started "The Heart Project" — a mentoring programme — earlier this year and it involves meeting every other Saturday with young ladies from the Clearwater Middle School.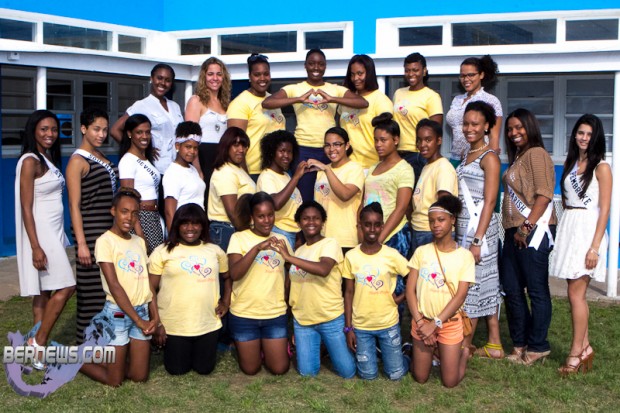 The group spent time bonding with the contestants and got involved with activities and discussions. The Heart Project participants have been exposed to different activities including a sleepover sponsored by The St George's Club, an interview skills workshop with Bermuda College President Dr. Duranda Greene, and they also took part in the Catlin Middle-To-End and many other activities.
Miss Outerbridge gave a presentation at the Clearwater Middle School when she initiated The Heart Project and extended an invitation to M2 students with twenty expressing interest in the group.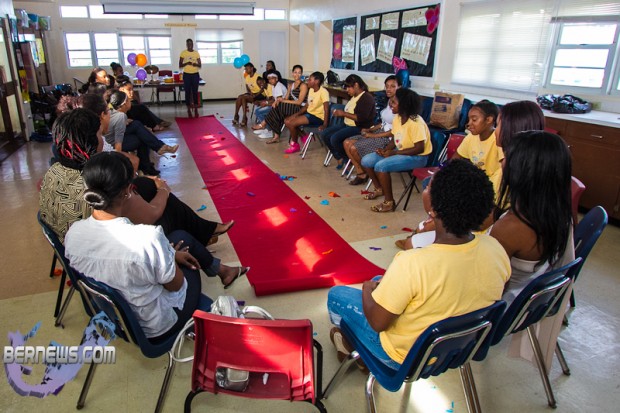 There are eight competitors vying for the chance to be crowned Miss Bermuda 2012; Miss Deshona Perinchief representing Warwick, Miss Lene Hypolite representing Devonshire, Miss Chelsy Furtado representing Pembroke, Miss Dwanae Simons representing Smiths, Miss Dashunte Furbert representing Hamilton Parish, Miss Shannon Ingram representing St. Georges, Miss Rochelle Minors representing Sandys, and Miss Crystal Lyn representing Southampton.
The 2012 Miss Bermuda Pageant is scheduled to take place Sunday July 8th at the Fairmont Southampton Hotel, and tickets are now available on bdatix.bm. The winner of 2012 Miss Bermuda Pageant will travel to Ordos, Inner Mongolia, China to compete in Miss World.
Read More About
Category: All, News, Style & Beauty