Ordnance Island in St. George's played host to both rubber ducks and humans on Sunday afternoon [June 3] as the Rubber Duck Derby got underway. Inclement weather threatened to upset the afternoon's activities but the sun came out and pleasant weather was the order of the day.
The major sponsor for this event is BELCO, who have generously sponsored the Duck Derby for the past fifteen years. The event is held in support of Friends of Hospice, the charity supporting Agape House and hospice care in Bermuda. This is their biggest fundraising event of the year, and the fundraising goal for 2012 is $145,000.
The event featured food stalls, kiddie land with a bouncy castle, games and face painting, as well as baked goods and live entertainment. The Corporate Duck Race is the first race of the day, and was followed by the Youth, Pamper Me and Family races. The BELCO Bird also made an appearance, mingling with those at the event with children approaching the mascot for a hug.
After the ducks were poured into the water, swimmers and canoeists manipulated the waters to push the bevy of rubber ducks across the waters to finish by the 'Deliverance'. After the ducks finished their 'ocean crossing', they were taken out of the water and the winners were recorded. The Corporate ducks tried to escape the ravages of the net by heading towards the harbour but were retrieved before getting too far.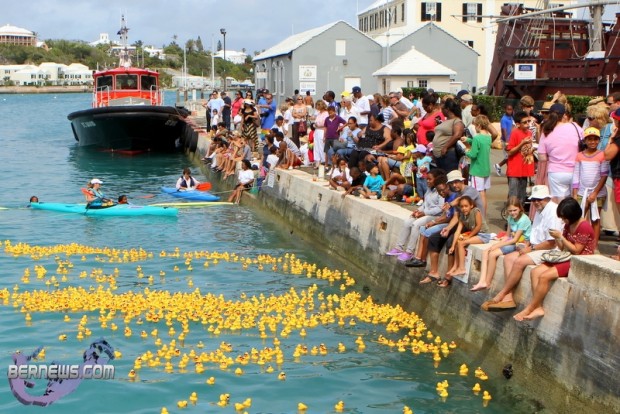 Linda Smith, BELCO Senior Vice President of Corporate Relations said, "BELCO is pleased to sponsor The Rubber Duck Derby. It provides a fun way for the community to assist Agape House, the Island's only inpatient hospice facility."
According to Ms. Smith funds raised through the Derby have been used to fund a full time chef, a full time counsellor and art therapist, a volunteer companion programme, additional education for Agape House staff as well as fund ongoing infrastructure improvements to Agape House.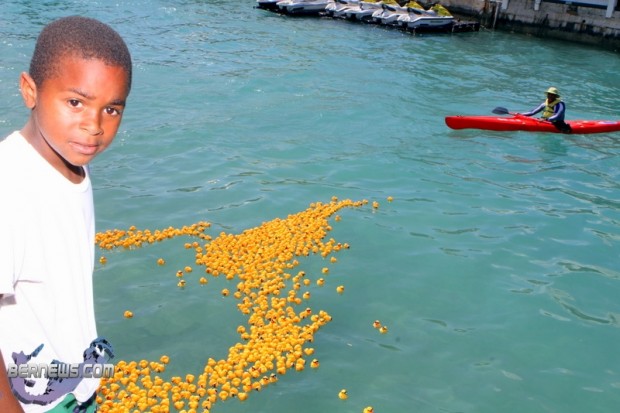 Friends of Hospice Vice Chairman, John Dale, thanked the public for their support throughout the years through ticket sales and attending the races on Derby Day.
Friends of Hospice is a registered charity providing support for Bermuda's only inpatient hospice facility, Agape House. Located on the grounds of King Edward VII Memorial Hospital in Paget, Agape House is part of Bermuda Hospitals Board's Medical Programme. The hospice was originally established in April 1990, under the direction of Mrs. Hilary Soares, with a mission is to provide quality end of life care.
Click to enlarge photos:
Read More About