[Updated] At 4.35am this morning [July 27] there was another power outage in Hamilton after a transformer tripped, with service restored approximately 90 minutes later.
A BELCO spokesperson said: "At approximately 4:35 am, the transformer inside the Park Road substation tripped due to a fault on a related piece of equipment. Electricity service was restored at approximately 6:09am. The cause of the fault is being investigated.
"Work will commence this morning to install a new, second transformer in the Park Road Substation, replacing the one that was damaged yesterday.
"Traffic in the area of Park Road will be disrupted today from approximately 9:30 am to 11:30 am, and again in mid-afternoon, as large equipment is moved to and from the substation.
"Every effort will be made to minimize disruption, but motorists are advised to use alternate routes in mid-morning and mid-afternoon today. BELCO apologizes for the interruption of service and thanks customers for their patience."
Yesterday afternoon 25% of the City of Hamilton lost power after a transformer explosion inside BELCO's Park Road Substation at 3.18pm. Crews sprung to work, and electricity service to all customers was restored at approximately 4:15pm.
Update 11.16am: BELCO can be seen moving the transformer along Park Road.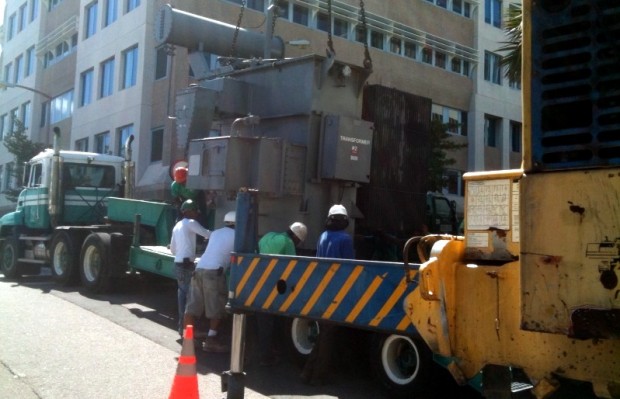 Read More About
Category: All, News, technology