Miss China Wenxia Yu won the 2012 Miss World Pageant today [Aug 18], defeating 115 other young ladies from around the world. The Miss World 1st runner-up was Wales, and the 2nd runner-up was Australia.
Miss Bermuda Rochelle Minors placed out of the top overall 15, however she did make the semi-finals of two of the individual events [talent and model], and was also announced as one of the finalists in the multi media award category.
All the contestants being introduced, Miss Bermuda comes in at the 45 sec mark:
It is not clear at this time where Miss Bermuda placed overall, with the placings below the top seven not yet available, however we will update as able.
Miss Minors was shown being introduced when the broadcast got underway, and later in the show her supporters got some brief airtime as when the camera panned to the audience a Bermuda flag was shown on TV.
StyleBermuda tweeted the screencap below showing the Bermuda flag in the audience saying "Bermudians always up in the mix." The finals were held in Ordos, China.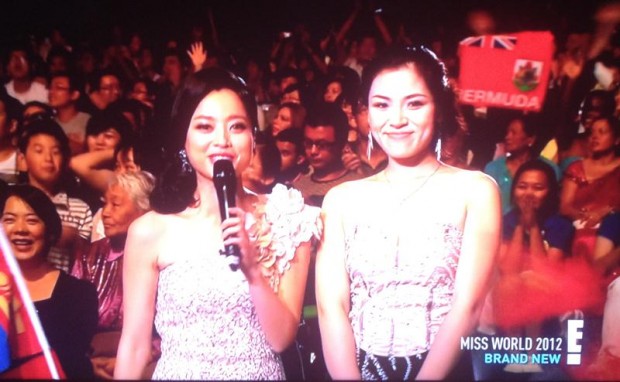 Update Aug 19, 1.35pm: There still does not appear to be any form of final list of all 116 places available, so we are still unsure where Miss Bermuda placed, however will continue to try and find out.
Update Aug 20, 7.40am: The top 30 have been released, but 31-116 have not, so it is still unclear where Miss Bermuda placed overall.
Read More About
Category: All, Entertainment, News, Style & Beauty