Minister of Economy Trade and Industry, Patrice Minors yesterday [Sept 27] gave an update on the recently launched Level 5 Drywall Mechanic Certification programme.
The pilot programme was unveiled several weeks ago in partnership with the Construction Association of Bermuda and a group of Drywall Professionals.
The initiative saw 17 Bermudian men travel to the Construction Education Foundation of Georgia to study and train for their Level 5 Drywall Mechanic Certification.
And today Minister Minors hailed the programme as a success saying, "I am pleased to say that the 17 young men have recently returned home and can now call themselves fully Certified Drywall Mechanics.
"By all accounts this training initiative was a great success and the feedback from all parties concerned including the instructors, participants and local stakeholders has been excellent. So this is indeed an initiative deserving of public recognition."
Six of the successful participants were at today's press conference and all spoke of the benefits of the programme and becoming fully certified drywall mechanics.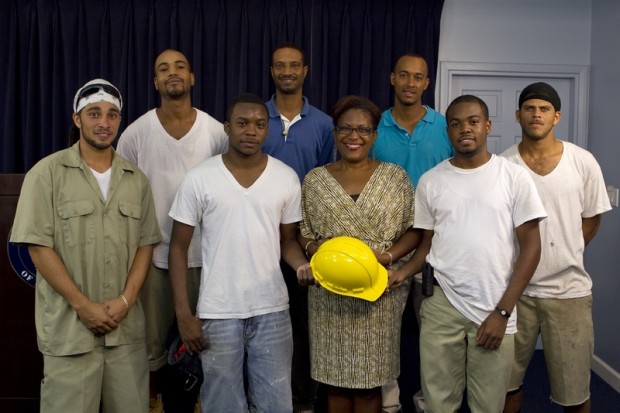 And the Minister pointed out that 16 of the course participants are fully employed as a result of their certification.
Minister Minors concluded, "I recognise that Government has come under increasing criticism of late from some sectors of the community that have implied that we're not doing enough to assist those find gainful employment. And quite simply that's untrue.
"In fact this programme is just one example of Government providing solutions to our unemployment challenges by placing Bermudians in jobs.
"This training opportunity also serves to minimize the issuance of work permits particularly in respect to the two major construction projects namely, the Bermuda Hospitals Board and the former Waterloo House sites.
"And I believe it is important to publicly highlight the success of this job training programmes because not only does it represent a promise made, but it represents a promise delivered.
"Let there be no doubt, we are ensuring fairness and opportunities for Bermudians; we are solving people's problems; we are standing up for Bermudians; and yes we are and will continue to make sure and steady progress in helping Bermudians to succeed."
Read More About