On Saturday October 13th TEDxBermuda will bring people together to share big ideas from Bermuda and beyond. Noted international speakers will include:
Ross Stein, a geophysicist and one of the world's most cited experts on earthquake science, who will explain how we can better forecast and manage the threat of earthquakes
Sossina Haile, a professor of Materials Science and Chemical Engineering who is working towards a carbon-neutral world by turning CO2 from the air into fuel
Norman Seeff, a world-renowned filmmaker and photographer who has dedicated much of his life to better understanding the creative process
Hanli Prinsloo, freediving record holder and conservationist, on human connection to the sea: "I am Water"
Peter Bentley, on "Embracing Chaos"—why science must learn from the randomness of nature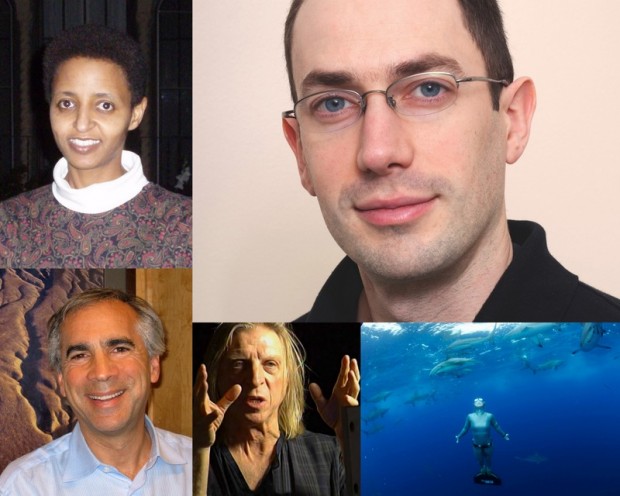 "If you love TED, then you are going to love this year's line up from TEDxBemuda! We will also feature local luminaries so we urge people to stay tuned and sign on to our website for updates as we get closer to the date. We promise to live up to the moniker 'ideas worth spreading " said Marketing Chair Paul Shapiro.
"We are fortunate to have the kind support of local sponsors Catlin Bermuda, Capital G, Partner Re, CellOne, HSBC and Renaissance Re. Persons can obtain early bird tickets through premier tickets for $50."
Norman Seeff Understanding Creativity:
In 1969, Norman Seeff gave up being an emergency medical doctor in Soweto, South Africa and emigrated to the US to explore a new vocation in the arts. In New York City, Seeff was introduced to the world of album cover design and photography by his mentor, famed graphic designer Bob Cato.
His first major photographic assignment—for The Band's album cover—in collaboration with Cato, brought him immediate recognition. In 1972, Seeff relocated to Los Angeles to become Creative Director of United Artist Records.
Three years later, Seeff opened an independent studio on Sunset Boulevard and in 1975, he began bringing film crews into his photo-sessions to document the personal dynamics of artists in the act of creation.
The extensive film and tape archive of hundreds of recorded sessions forms the foundation of the "The Sessions Project," an evolution of his work that has become a four-decade exploration and documentation of the inner dynamics of creativity in all its forms.
Seeff's first book, Hot Shots (1978), was awarded the New York Art Directors Club gold medal for photography. His second book, Sessions! was published in 1988.
In 1990, Seeff took a creative detour to direct television commercials but returned to "The Sessions Project" and to documentary filmmaking in 1999, directing and producing projects for the Experience Music Project in Seattle, Paramount Television and the California Institute of Technology.
Seeff's recently completed documentary, Triumph of the Dream, explores the inner dynamics of the creative process of engineers and scientists responsible for landing two rovers on Mars in 2004.
Seeff is currently engaged in the production of an eight-part documentary television series on the power of creativity which will feature "The Sessions Project" archive as well as new sessions with current artists.
Sossina M. Haile Turning CO2 into Fuel:
Sossina M. Haile is the Carl F. Braun Professor of Materials Science and of Chemical Engineering at the California Institute of Technology. She earned her PhD in Materials Science and Engineering from the Massachusetts Institute of Technology in 1992.
As part of her studies, Haile spent two years at the Max Plank Institute for Solid State Research, Stuttgart, Germany, first as a Fulbright Fellow then as a Humboldt Fellow. Before assuming her present position at Caltech in 1996, Haile was a member of the faculty at the University of Washington.
Her research broadly encompasses solid state ionic materials and devices, with particular focus on energy technologies. She has established a new class of fuel cells based on solid acid electrolytes, and demonstrated record power densities for solid oxide fuel cells.
Her more recent work on water and carbon dioxide dissociation for solar-fuel generation by thermochemical processes has created new avenues for harnessing sunlight to meet energy demands. She has published more than 130 articles and holds 10 patents on these and other topics.
Haile is the recipient of many prestigious awards including an American Competitiveness and Innovation (ACI) Fellowship in 2008 from the National Science Foundation in recognition of "her timely and transformative research in the energy field and her dedication to inclusive mentoring, education and outreach across many levels," the 2010 Chemical Pioneers Award of the Chemical Heritage Foundation, and the 2012 International Prize in Ceramics.
Haile was named by Newsweek magazine in its 2007 end of the year issue as one of 12 people to watch in 2008. Her national service includes membership on the National Materials Advisory Board, a committee serving the National Academies of Sciences and of Engineering, from 2005 to 2011, and co-authorship of the National Academies study "America's Energy Future: Electricity from Renewable Resources" published in 2009.
Peter J. Bentley Embracing Chaos:
Dr. Peter J. Bentley is an Honorary Reader and Senior College Teacher at the Department of Computer Science, University College London (UCL), Collaborating Professor at the Korean Advanced Institute for Science and Technology (KAIST), Visiting Fellow at SIMTech, A*STAR, Singapore, Visiting Research Fellow at Goldsmiths College, London, a contributing editor for Wired UK, a consultant and a freelance writer.
He achieved a BSc (Hons) degree in Computer Science (Artificial Intelligence) in 1993 and a PhD in evolutionary computation applied to design in 1996, at the age of 24.
His research investigates evolutionary algorithms, computational development, artificial immune systems, swarming systems and other complex systems, applied to diverse applications including design, control, novel robotics, nanotechnology, fraud detection, mobile wireless devices, security, art and music composition.
He has published more than 200 scientific papers and is editor of the books Evolutionary Design by Computers, Creative Evolutionary Systems and On Growth, Form and Computers, and author of The PhD Application Handbook and the popular science books Digital Biology, The Book of Numbers, The Undercover Scientist and the forthcoming Digitized.
Hanli Prinsloo I am Water:
Hanli Prinsloo is an 11-times South African freediving record holder, filmmaker and avid ocean adventurer. She has a background in acting and documentary filmmaking as well as 13 years of competitive freediving experience.
Her filmmaking work has taken her into the front lines of social political conflict all over Africa, from Burundi to Uganda, South Africa, Rwanda and Zimbabwe. She now focuses all her energy on ocean conservation through human experience, founding the I AM WATER Conservation Trust in 2010.
Using freediving as a tool, Hanli has trained an array of top athletes, from rugby players to swimmers and surfers—working with mental toughness, mind over body control and consciousness. Her work with the world's top big wave surfers has won her international recognition and acclaim.
She has been nominated for (among others) the Cosmo Awesome Women of the Year Awards, Outthere Adventurer of the Year, Gsport's Women in Sport, Mail & Guardian Top 200 Young South Africans as well as a 'strider' in the Johnny Walker Celebrating Strides Awards.
As a competitive freediver, Hanli holds all the South African records, and is ranked in the Top 10 Female freedivers internationally for 2011.
Ross Stein Defeating Earthquakes:
Ross Stein is a geophysicist with the US Geological Survey in Menlo Park, California, who studies how earthquakes interact by the transfer of stress. From 1993–2003, the Science Citation Index reported Stein was the second most cited author in earthquake science.
He received an ScB Magna cum Laude and with Honors from Brown University in 1975, a PhD from Stanford University in 1980, and was Observatory Post-Doctoral Fellow at Columbia University during 1981.
Dr. Stein led non-proprietary seismic hazards investigations for Swiss Re on Istanbul (2000) and Tokyo (2006), for the US Office of Foreign Disaster Assistance on Algiers (2009), and for Zurich Financial Services on Santiago (2011).
Dr. Stein is the 2012 Natural Hazards Gilbert F. White Distinguished Lecture Award winner of the American Geophysical Union. He received the Eugene M. Shoemaker Distinguished Achievement Award of the USGS in 2000, the Excellence in Outreach Award of the Southern California Earthquake Center in 1999, and the Outstanding Contributions and Cooperation in Geoscience Award from NOAA in 1991.
Read More About
Category: All