Today [Dec 14] David DeSilva was sentenced to 14 years in prison for killing his ex-wife, and the Court ordered he must serve half that time [7 years] before being considered for parole.
He previously pleaded guilty to manslaughter and admitted to killing Denise Evans-Wilkinson, whose body was found floating in the waters off the Mill Point Road area in April 2011.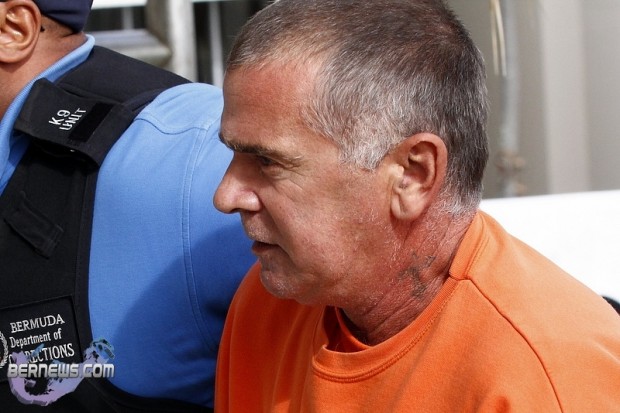 Crown Prosecutor Rory Fields had recommended a sentence in the range 12 -14 years. In a Victim Impact Statement read out by Mr Fields, one of Ms Wilkinson's children had written that the manner of loss of her mother had left her such that she could no longer go swimming.
She wrote that she had nightmares about her mother's body floating in the water and that because of the time of her death, her mother had missed her graduation. Another daughter wrote that she had suffered a breakdown and that a part of her had died with her mother. She wrote that she now suffers from insomnia.
Defence lawyer Marc Pettingill, speaking in mitigation for the convicted man, told Justice Charles Etta-Simmons that this was a case of manslaughter that took place with both the victim and Mr DeSilva in a state of drug induced intoxication. Mr Pettingill did not request or recommend a sentence shorter than the 12 – 14 years recommended by the Crown.
Ending his submission, Mr Pettingill offered this closing comment: "David DeSilva accepts that he has to be punished." Mr Pettingill went on to describe how Mr DeSilva's family had always stood by him and offered assistance to him. During this part of Mr Pettingill's submission, from the public gallery in the courtroom, the sounds of crying became just audible.
Asked what he had to say, dressed in his orange remand sweatsuit, Mr DeSilva stood in the dock and in a quiet voice said: "I was pretty messed up on alcohol and drugs for a long time. I am very sorry."
Mr DeSilva entering and leaving court this morning:
Justice Simmons handed down a sentence of fourteen years stipulating that at least half of that sentence must be served before he is considered for release. The Justice also ruled that Mr DeSilva must undergo Anger Management courses whilst in prison. Time spent in custody is to be taken into account.
The Court heard earlier that Ms Wilkinson's body had been found in the water and her feet were bound by a part of a tablecloth. Medical examiners determined that the cause of death was strangulation, her neck had been fractured, and a gold necklace had been stuffed down her throat.
Mr DeSilva initially denied having anything to do with her death, but later admitted that he was high on drugs and that he could not remember much of what happened that night.
Mr DeSilva, 47, has a record that stretches back many years; with the most recent offence being a conviction for the possession of drugs equipment in 2011.
Read More About
Category: All, Court Reports, Crime, News