Following yesterday's [Dec 1] shooting — which saw a 20-year-old man chased down by two men on motorcycle and shot on North Shore — police have appealed for witnesses, particularly anyone who may have seen the motorcycle chase.
A police spokesperson said: "Around 5pm on Saturday, December 1st police responded to a report of gunshots in the North Shore Road, Band Room Lane Pembroke area.
"It appears that a man was on a motorcycle when two men on another motorcycle gave chase, shooting the victim at the junction.
Police Media Manager Dwayne Caines speaking at the scene yesterday:
"The 20 year old Pembroke man attended King Edward VII Memorial Hospital for treatment of his injury, which is not believed to be life threatening.
"A full investigation into this confirmed firearm incident is underway and police are appealing for anyone who may have witnessed any suspicious activity in the area, particularly anyone who may have seen two men on a motorcycle chasing another motorcyclist in the areas of Glebe Road, North Shore Road and Band Room Lane around 5pm Saturday, December 1st to contact police on 295-0011 or the independent and confidential Crime Stoppers hotline on 800-8477.
"In a related incident, after police established a cordon at the scene of the shooting, a man on a motorcycle rode through the cordon on North Shore Road and proceeded on to Band Room Lane.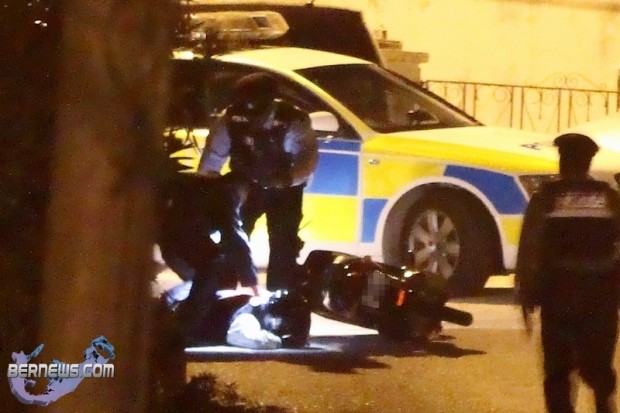 "As a result, the man was forcefully taken off his motorcycle [photo above]. He appeared to be intoxicated and was arrested on suspicion of impaired driving. He was then taken to Hamilton Police Station where he was processed and detained. A court appearance is anticipated in due course."
Read More About