The air will be filled with the delicious aromas of warm simmering soups on Monday, February 25, 2013 at The Eliza DoLittle Society's annual Soup-a-Bowl event.
From 6-9pm, in the Fairmont Hamilton Princess' Harbourview Ballroom, people can celebrate with local chefs, live music, and of course…delicious soup. Tickets are now on sale at Bdatix.bm for the charitable event.
"This is an important event for us. As our largest fundraiser we hope to reach more people this year than ever before", comments Executive Director Margaret Ward. "The event was created to showcase the many chefs that donate their time and food to us, while also allowing people to be aware of what we do and the services and food we provide."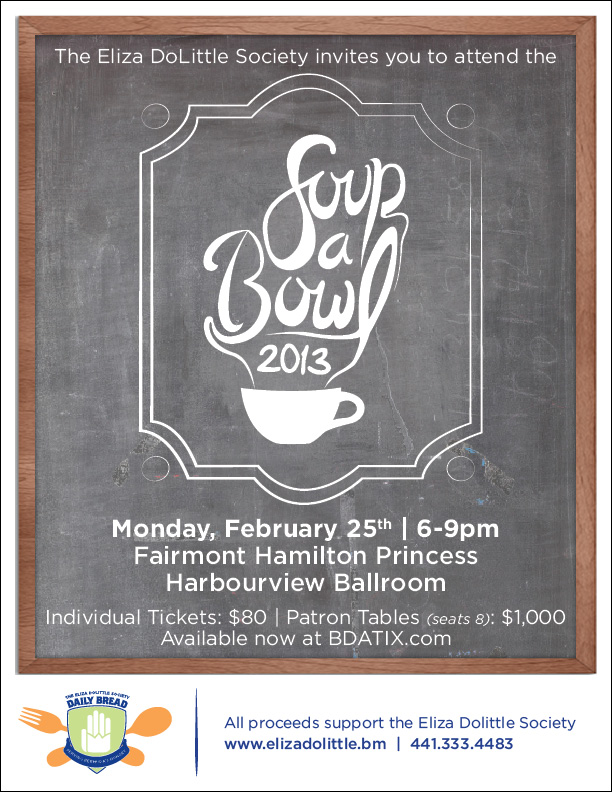 Through their Daily Bread Programme, The Eliza DoLittle Society [TEDS] collects food from restaurants and grocery stores to help provide for feeding centres island-wide.
Each year TEDS' Soup-a-Bowl gathers the island's top Chefs to compete for the title of 'Bermuda's Best Soup'. In addition they have amateur entrants, this year from the Bermuda College's Culinary Arts programme, who submit soups of their own which are also sampled and judged.
Attendees of the event can either purchase an individual ticket, or buy a group table, to sample, sip, and savor as much soup as they'd like. All attendees are invited to judge the amateur entrants, as well as have their say in the professional chefs' "Best Soup" competition.
There will be a variety of soups to try with over a dozen local chefs participating, and a number of top Bermudian restaurants wanting to get involved. There will also be wine parings with the soups, provided by local company Discovery Wines.
"We are excited that so many chefs are joining us again for this event," comments Ward, "A lot of them contribute to our Daily Bread Program, donating their food or time. For those that haven't worked with us before, we hope that working with them on this event will create a relationship for future endeavours."
This is the seventh year The Eliza DoLittle Society has put on the event. It was originally created to showcase to the public what is often eaten in feeding centres. As they provide food for hundreds of lunches and dinners, soup is a main staple; this event helps to celebrate this soup and the many Bermudians it provides a hot meal for.
The Soup-a-Bowl promises to be an unforgettable night of culture and cuisine – with great food, keen competition and excellent local entertainment. Anyone who is interested in more information on the event, or getting involved with the Eliza DoLittle Society, can contact 333-4483.
Read More About
Category: All, Entertainment