Ms. Mary McBurney and her family recently travelled to the Island from Canada to celebrate Ms. McBurney's 100th birthday. The retired school teacher is a frequent visitor to the island, with this trip marking her 21st visit to Bermuda.
Minister of Tourism Development and Transport Shawn Crockwell recently met with Ms. McBurney and her family, and said, "I thoroughly enjoyed my visit with Ms. McBurney and thanked her for her loyalty to Bermuda. She is a true ambassador having brought more than 85 people with her to Bermuda during the years."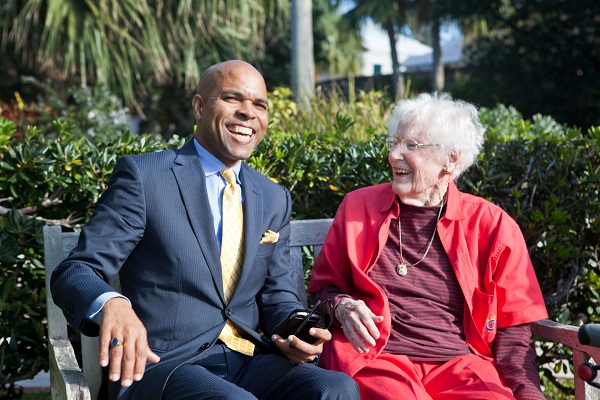 According to Ms. McBurney, a retired school teacher, this is her 21st trip to Bermuda, where the February weather is a pleasant break from the cold winters in Winnipeg, Canada. And if Ms. McBurney has her wish granted she will be back in Bermuda next year to celebrate her 101st birthday. Since 1993, she has visited the Island and stayed at the Greenbank Guest House & Cottages in Paget.
Ms. McBurney celebrated her 100th birthday in her hometown on December 18, 2012 surrounded by family and friends. For this special birthday visit in 2013, seven family members travelled with her including nieces, a granddaughter and her husband and great grandchildren. They visited many local attractions and participated in the Department's Love Month activities.
The retired school teacher keeps a pretty active social schedule and civic involvement. She is an author and entertainer performing at seniors' centres accompanied by a pianist and accordionist suitably named Mary's Merrymen. She is a published author and presented a copy of her book Big Grandma's Rhymes and Silly Sayings to Minister Crockwell.
When asked by Minister Crockwell what her secret to longevity is, Ms. McBurney said, "Don't worry. Be happy and do things for other people not just for you".
Read More About