Art imitates the seamier aspects of celebrity life on tomorrow night's [Feb.27] episode of "Law & Order: SVU" when actress Tiffany Robinson — daughter of Bermudian Jackie Robinson — appears in an episode inspired by the star-crossed romance of Rihanna and Chris Brown.
The NBC show's signature ripped-from-the-headlines plot centres around singer Micha Charles [Ms Robinson] who's brutally beaten by her hip-hop star boyfriend, yet remains inexplicably drawn to him.
When Assistant District Attorney Barba [guest star Raul Esparza] works to build a case, the victim refuses to aid the prosecution and, despite the best efforts of Detective Benson [Mariska Hargitay], continues to put herself in danger.
The case quickly spirals into a media circus, perpetrated by both the defendant and his uncompromising attorney [guest star Jeffrey Tambor]. The episode — titled "Funny Valentine" — also stars Ice-T as Detective Odafin Tutuola, Richard Belzer as Sergeant John Munch and Danny Pino as Detective Nick Amaro. There are also special appearances by gossip columnist Perez Hilton and talk show host Wendy Williams who will be playing themselves.
Tiffany Robinson with Wendy Williams in "Law & Order: SVU"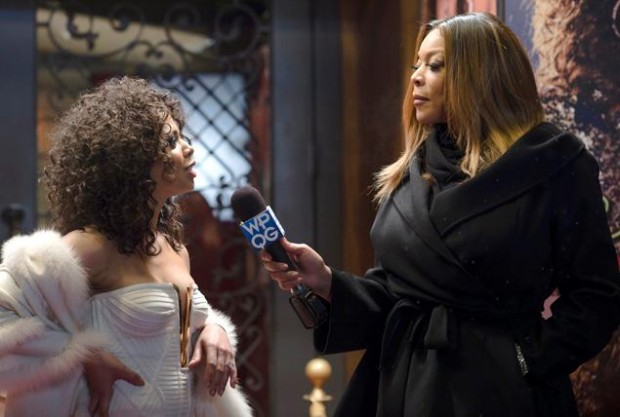 In real life, Chris Brown was arrested in 2009 after a picture surfaced of Barbados-born superstar Rihanna with a swollen and battered face.
He pleaded guilty to felony assault and received five years probation plus community service and a restraining order.
Last month Rihanna confirmed the pair are back together.
"He's not the monster everybody thinks," she said. "He's a good person. He has a fantastic heart. He's giving and loving. And he's fun to be around."
Fordham University graduate Ms Robinson's is the daughter of Bermudian pastor Jackie Robinson. Ironically, her family did not own a television — always referred to as the "idiot box" in the Robinson household — when she was growing up.
"It was during this period at Fordham that [my] passion for acting was confirmed in various performances with the 'Mime and Mummers Club' and slowly broadened from theatre to film/television," says the biography of the 27-year-old Brooklyn-based actress posted at her website.
"Constantly in search of new frontiers, Tiffany has paved her own path from joining forces with Carol Ann Nelson to create a children's programme based on her children's book 'Red and Red' featured on the BCAT TV Network, to an appearance in Lyfe Jennings music video 'Must Be Nice' and several student and independent films."
Read More About
Category: All, Entertainment, Films/Movies, News