This Saturday [May 18] from 11am-5pm, The Chewstick Foundation will again be hosting a "Fundraising Rally & Open House", at its facility on the corner of Elliot Street and Court Street.
The highlight will be the repainting of the 12ft x 30ft mural with the theme of "Community", designed and managed by a group of students from the Bermuda High School.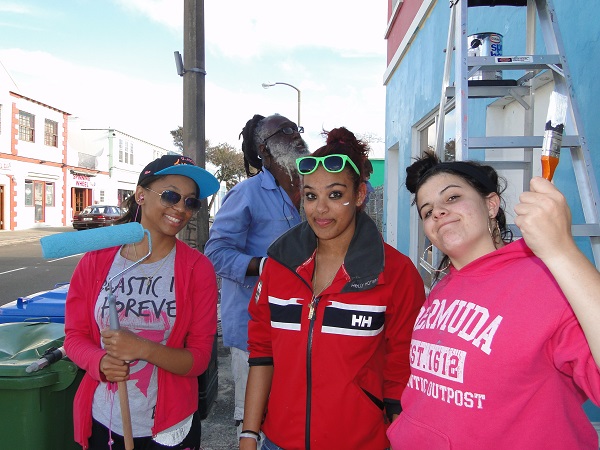 This will be a continuation of the Community Art Program which started with 4ft x 8ft paintings donated by The Ministry of Education, and continued with the painting of The Chewstick Foundation's outdoor benches and tables.
On their first "Fundraising Rally & Open House", which took place December 1st 2012, the charity hosted tours of their facility, mural painting, performances, side-walk chalk art, dj's and an open-mic.
As the objective of the program is to be a catalyst for positive activity and interaction, when The Chewstick Foundation was approached by Bryn Thomas, Chante Pitcher and Lesley Campbell for the next phase of the programme it was a welcome example of the program's impact.
The group of young ladies, who are students at The Bermuda High School for Girls, has been working over the past month, planning the design of the wall and the Community Day as part of their Creative Action Service class project. Their focus has been on enhancing the work that The Chewstick Foundation does in breaking down barriers for social change and community healing.
Group Leader, Bryn Thomas said, "I have been involved with Chewstick programs and see how focused they are on bringing everyone together, so it made sense that our project should help them to do that. We're really excited for everyone to come out, get involved, and get to know Chewstick."
The general public are being invited and encouraged to lend a helping hand in painting the wall on the Court Street side of the building, to bring friends, family and talents to share and participate in the day's activities. Although it is not required to donate in order to paint, any contributions made on the day will go towards supporting The Chewstick Foundation's host of programmes.
In addition to the mural painting, Saturday will offer the opportunity for tours of The Chewstick Foundation facility, dj's, performances and the chance to meet supporters and artists affiliated with Chewstick.
Read More About
Category: All, Entertainment