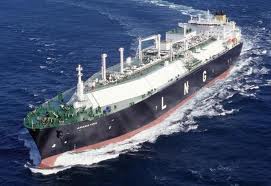 A Bermuda-registered natural gas shipping company has agreed to take a 25 per cent ownership interest in a $500-million British Columbia gas export project being organised by one of Canada's First Nations people.
Golar LNG Ltd., which runs a fleet of liquefied natural gas vessels, will join an unnamed Asian partner in BCLNG, which is part-owned by the Haisla First Nation near Kitimat.
That small town on the northern British Columbia coast has been the subject of much interest by global energy giants looking to export vast quantities of Canadian natural gas to Asian markets.
The BCLNG project is more modestly scaled, with initial plans to load 600,000 to 700,000 metric tonnes per year onto ships.
"But the smaller project, which would use liquefaction barges built offshore and floated into place, stands to be the first to send Canadian gas offshore — making it important for a province that has invested major political capital in the construction of a large new export industry on its northern shores," Toronto's "Globe & Mail" newspaper reported on Thursday. "Though some detailed engineering work remains, BCLNG construction could start this year, following a third-quarter construction decision, with estimates that first gas could flow by 2016."
British Columbia's Energy Minister Rich Coleman said in a statement: "The partnership formed between the Haisla and global energy investors will ensure BCLNG is BC's first export terminal for natural gas, and the start of a new, prosperous future for our province."
The Haisla and its partners say with the addition of new partners, they now intend to pursue a larger project that could export up to 1.8-million tonnes per year.
"We are pleased that Golar, with 13 LNG vessels in operation worldwide and another 13 under construction, and our new Asian partner recognise the LNG export opportunity in B.C. and want to work with our people to bring BCLNG into operation," Haisla chief councillor Ellis Ross said in a statement.
Golar LNG is registered in Bermuda but most of its operations are directed from London.
The company — which operates 13 LNG carriers and is listed on NASDAQ — is controlled by Norwegian-born oil tanker and shipping tycoon John Fredriksen.
Read More About