Legendary West Indies cricket player Brian Lara had kind words for the island during his recent visit, saying he enjoys visiting the island and has a "great love affair" for Bermuda.
Mr Lara came to the island to show support for the Pepsi ICC World Cricket League [WCL] Division 3, which saw Uganda, Oman, USA, Italy, Nepal and Bermuda compete, with Nepal winning the tournament.
While on the island, he attended games and also spent time with Bermuda's junior cricket players. He spoke with the young players providing cricket tips and stressing the importance of teamwork. He also signed both bats and balls for the young people, and posed for photos.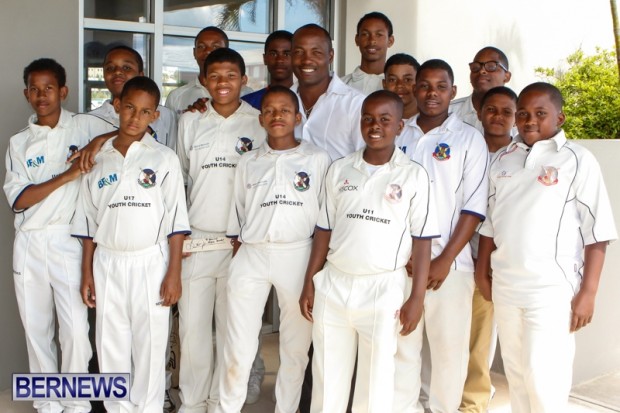 Mr Lara is a regular visitor to Bermuda and usually attends the PGA Grand Slam of Golf held at the Port Royal Golf course in October.
Mr Lara told Bernews, "Obviously there is a great love affair I have for Bermuda over the years, playing golf and cricket here. I have spent quite some time here with the people, and appreciate every time I am invited out.
"I couldn't miss the opportunity this year, especially with such important cricket playing. The likes of Uganda, of USA and Oman playing cricket in Bermuda…"
The 44-year old left-hander was one of the West Indies most prolific batsmen , having represented the West Indies in 131 Tests and 299 ODIs in a career that spanned 17 years. He amassed some 11,953 Test runs at an average of 52.88.
He scored 34 Test centuries and 48 half-centuries, while his best performance with the bat featured against England in Antigua in 2004 when he scored 400 not out.
In the 299 ODIs that Lara played, he scored 10,405 runs at an average of 40.48, including 19 centuries and 63 half-centuries. As the West Indies captain, Lara led the side to victory in the ICC Champions Trophy in England in 1994.
Read More About