[Updated with video] Bermuda sprinter Tre Houston claimed the gold medal in the 100m dash in record setting style this evening [July 15], crossing the line in 10.34.
This breaks the old Island Games record of 10.58, which had actually been set by Houston himself during this morning's preliminaries.
Houston's 10.58 time this morning broke an Island Games record which had stood for some 24 years, since Gordon Crowe of the Isle of Man ran a 10.60 in 1989.
Houston in action, 2nd from right wearing yellow shoes. Photo by Anthony Wade: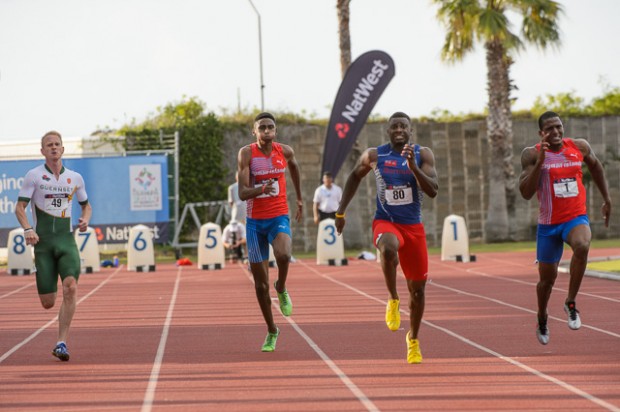 Bermuda also picked up a medal in the women's 100m, with Natasha Trott claiming the silver in a time of 12.39. The two sprinting medals were two of the seven athletics medals won on Monday.
Jah-Nhai Perinchief won gold in the high jump, Chas Smith claimed the high jump bronze, Kerri Furbert followed up with a silver in the long jump, Shianne Smith won gold in the javelin, and Ashley Estwanik claimed bronze in the 10,000 metres.

Read More About