On Friday [July 12] ten participants successfully completed the HSBC Pro Soccer School of Excellence which this year included work experience and project work. David Bascome, Pro Soccer and School of Excellence Founder developed a programme to help empower participants to avoid and overcome social obstacles.
This year's HSBC School of Excellence graduates are; Jefferson Milon Gonzales, T'ai Williams, Tre Anthony Outerbridge, Zaarion Darrell, Chris Araujo, Brian Darling, Jaire Smith, Leilanni Nesbeth ,Tahjae Welch, Jazmine Spence.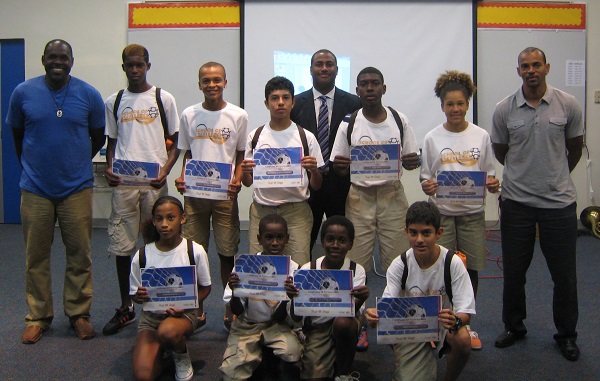 "The goal of the School of Excellence is to help empower our young people to avoid and overcome the obstacles they may face. I am confident after these experiences the participants will all walk away more confident and even more importantly proud in their team leadership skills." stated David Bascome.
Mike Williams, HSBC Pro Soccer Coach stated, "We've been passionate about finding ways to structure the programme to include a personal project. This year the youth participated in rigorous personal growth exercises and long term career path planning. Each participant now has a portfolio that tracks their personal growth."
"HSBC Pro Soccer and School of Excellence coaches have done a great job encouraging all participants to keep positive attitudes on and off the soccer field and to be positive role models. HSBC congratulates all participants of the 2013 Pro Soccer Clinic and School of Excellence for their hard work." stated HSBC Representative, Neville Grant.
Read More About