The Peter Leitner Arts Scholarship has awarded twelve scholarships to Bermudian students who have chosen a career in the arts.
Recipients this year are:
Kioshi Burgess – William Paterson University [Music - Pop Music]
Miles Dill – Savannagh College of Art & Design [Visual Arts]
Rhea Gibbons – Lancaster Unviersity [BA - Art/ Psychology]
Avarie Graham – Ontario College of Art & Design [Graphic Design]
Sarai Hines – School of the Museum of Fine Arts [BFA w/ Child Development]
Rochelle Minors – University for the Creative Arts, Rochester [BA - Fashion Design]
Neal Morris – Savannah College of Art and Design [BA - Fine Arts]
Malachi Simmons – Edgehill University [Performing Arts]
Yanna Smith – Academia Italiana [Interior and Product Design]
Dezjuan Thomas – Ryerson University [Performance Dance]
Rowan Vickers – The Juilliard School [Drama]
Rory Wilson – London School of Dramatic Art [Advanced Diploma]
[L-R] Avarie Graham, Rhea Gibbons, Sarai Hines, Dezjuan Thomas, Rowan Vickers, Cole Simons [Trustee], Yanna Smith, Miles Dill, Malachi Simmons, Suzanne Wilson [for Rory Wilson], Rochelle Minors, Wendy Seymour [for Kioshi Burgess], Neal Morris, Troy Seymour [for Kioshi Burgess], Linda Tucker [Trustee].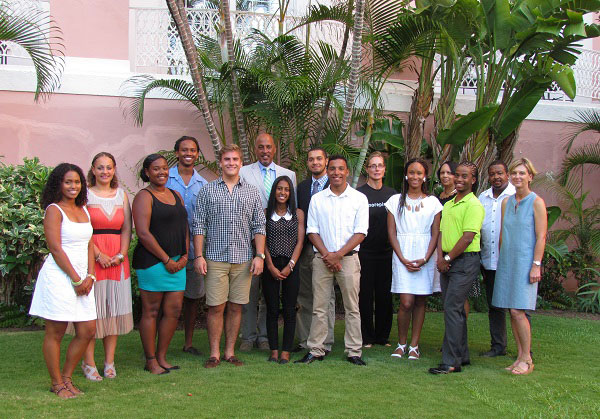 Over the years The Peter Leitner Arts Scholarship has awarded 103 scholarships to 60 individuals totalling nearly $410,000. The scholarship was set up by Margaret Leitner in memory of her husband Peter, a Hungarian Jew who fled his homeland at the age of 19 during the quelling of the Hungarian Uprising in 1956. He found refuge in Canada and England before coming to Bermuda as a trained architect.
Peter and Margaret both moved to Bermuda in 1966, met the same year and were married in 1968. They lived in a small house, with their beloved dog Toschka, that overlooked the harbour until their deaths in 1988 and 2000 respectively. Mr Leitner could often be seen running on the beach with his canine companion or riding his scooter around town with Toschka riding atop the gas tank.
In 1969  Mr Leitner  joined Maurice Terceira in what would eventually become the firm Terceira & Leitner. Many Bermudian houses and office buildings owe their origins to his designs. He had a strong interest in art and music, and was a skilled water-colourist in his own right. Naturally, Peter and Margaret Leitner looked to Bermuda's arts scene for both the stimulation and relaxation so necessary for working couples.
Mrs. Leitner, who was English, embarked on a career in Government service that would eventually see her serving as secretary to the Attorney General, and finally as the Chief Justice's secretary. Throughout this time she was responsible for the Supreme Court Library. She worked long hours without the benefit of the high-tech equipment we now take for granted.
In deciding that this scholarship should benefit 'creative Bermudians', Mrs. Leitner acknowledged what her husband always considered himself to be, albeit without the status to prove it. It was Mrs. Leitner's wish that the scholarship be in the name of her husband alone.
Read More About