Since opening in 2009, Orange Bay Company has donated part of its annual profits to charities that are enriching lives and providing assistance to those in need in the Bermuda community. Keep Bermuda Beautiful is the latest recipient of its charitable donations programme with the Company donating $2,000 to the charity.
Delight Morris, Co-Owner of Orange Bay Company, said, "At Orange Bay Company, we're focused on promoting better living for everyone in our community; helping people create beautiful, inspiring spaces that they can enjoy with their loved ones. At KBB, they focus on preserving the beauty of our island and creating a healthy environment that we can all enjoy for generations to come. We have similar philosophies."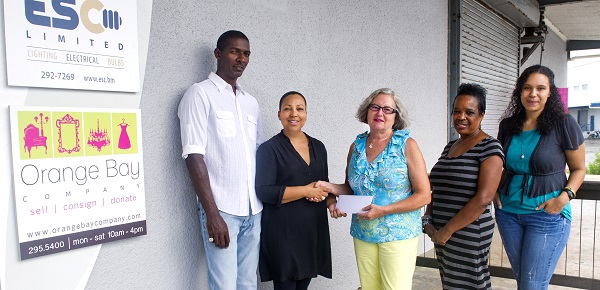 Mrs. Morris continued, "We are truly appreciative of the work KBB does to enhance the quality of life of everyone in our community, and in particular their work in combatting illegal dumping. We're strong believers in recycling, reusing and repurposing—it's at the core of our business—so we're fans of the educational work KBB does to promote recycling, and we're pleased to be able to support this wonderful organisation."
Anne Hyde, Executive Director at Keep Bermuda Beautiful said, "We would like to thank Orange Bay Company for this generous donation. Funds will be used to help cover the costs of organising and running clean ups of Bermuda's shore lines and green spaces, and educating young people on the benefits of recycling. It is through the support of local businesses like Orange Bay Company, that provide both financial and volunteer support, that we are able to continue to work to keep Bermuda clean and tidy and educate our community about the importance of keeping Bermuda beautiful."
In addition to donating part of its annual profits to charities, Orange Bay Company also organises an annual charity fundraiser each year. To date, its efforts have resulted in more than $70,000 in donations to local charities over just four years. Recipient charities have included The Bermuda National Trust, The Sunshine League, SPCA, The Salvation Army, The Reading Clinic and Teen Haven.
Read More About
Category: All, Environment