After leaving Bermuda's waters on December 7th, 76-year-old sailor Dr. Stanley Paris is now located off the coast of Brazil.
The New Zealand native plans to travel around the world in his 63ft boat "Kiwi Spirit", hoping to become the oldest and fastest person to sail nonstop around the world solo.
Dr Paris is hoping to complete the circumnavigation in less than 150 days 1 hour and 6 minutes, which would break the previous record set by American sailor Dodge Morgan in 1985.
He plans to complete the navigation without using fuel, with all power supplied by wind and solar energy with sealed diesel tanks available in case of emergency. His vessel is carrying dehydrated meals, dried food and has an electric water maker.
Screenshot from the tracking map [link] showing Dr Paris travels as of Dec. 29th, 2013: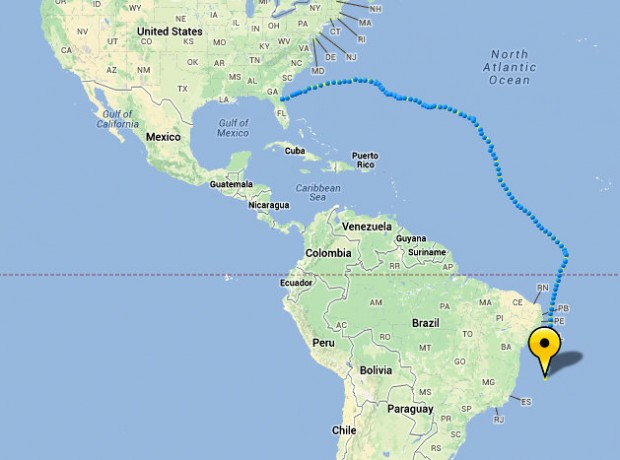 In his latest blog post, dated today, Dr Paris said: "Squalls at sea consist of sudden down pours of torrential rain associated with strong, fresh leading winds and even stronger winds of up to 30 or even 50 knots [35- 56 mph] once the squall hits.
"They can be seen approaching during the day as their ominous darkness and pelting rain changes the seascape. But at night, when you are sleeping, there is no such warning.
"Suddenly they strike, the boat heels over a few degrees with the first winds, and then a few seconds later the squall hits and the boat races off, out of control, having over powered.
"The autopilot then squeals out of defeat and gives up. If I fail to make it to the helm and manually head the boat off downwind, all hell will break loose and serious damage can occur.
"As stated, during the day I see it coming, and if I was not looking, I feel the first flush of fresh wind and the heeling of the boat. But at night, soundly asleep, I sense none of this. Enter my new invention.
Dr Paris' boat pictured off St David's, Bermuda on Dec 7th: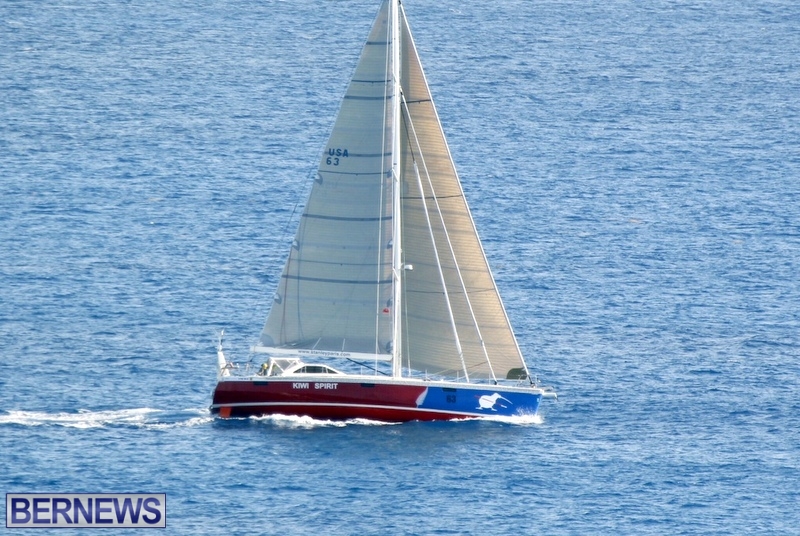 Dr Paris continued, "It's a microwave safe glass dish with lid purchased from Walmart, and so no doubt made in China.
"I have partially filled this with water, placed it on the cockpit table with a cloth creating the appropriate coefficient of friction. There it sits, posed just above my chest and neck as I sleep in the cockpit.
"Now at the first puff of wind preceding the full squall, the boat heels, the dish takes off and I get a pain in the neck and upper chest, which creates a sitting up reflex and I race to battle stations to gain control of the helm before it is lost.
"Exciting stuff, eh? So you wonder what I do with my time out here – creative thinking time – just getting a little too much of it."
Dr Paris is the father of Alan Paris, who became the first Bermudian to complete a circumnavigation of the globe in 2003 on "Velocity."
Read More About