BELCO has been featured in the latest edition of Business World Magazine, in an article that praises the energy company for its effort to establish a "legacy in energy leadership" since its inception in 1904.
The article opens by complimenting BELCO's efforts to maintain an effective and eco-friendly company, saying that, "In the British Territory of Bermuda, the essence of life has been greatly elevated by the team of professionals who deploy a significant share of their mind to the safe, reliable and affordable production of energy.
"As knowledge is said to equate to power, the expertise, eco-sensitivity, and efficiency imparted by this power company has led to its acknowledgement as one of the best in the industry."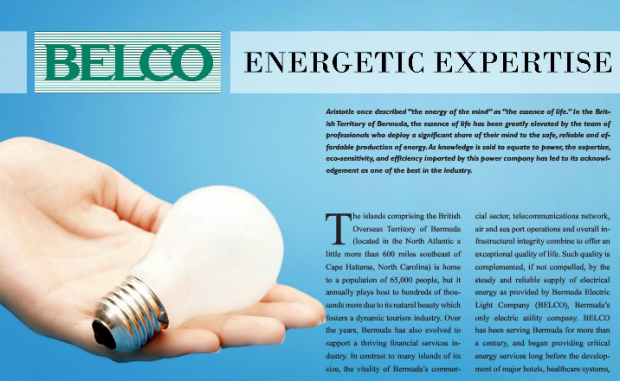 Speaking about energy costs, the article says, "There can be no overstating of BELCO's determination to implement strategies designed to further curb the cost of electricity which, over the years, has escalated in proportion to the increasing costs of oil.
"[CEO Walter] Higgins says BELCO is looking to add alternative energy solutions to stabilize the cost of power.
"He anticipates that in the not so distant future, BELCO will transition from the reliance on fuel oil to more affordable natural gas…the transition would enable BELCO and its customers to avoid impacts from the unpredictable fluctuations in oil costs."
The full article, featured on pages 228 through 243 in the December 2013 issue of Business World Magazine, can be read at this link.
Business World Magazine is an online business publication which is delivered electronically to over 250,000 senior executives across North America. BELCO was selected to be featured as a result of the company being named the best utility in the Caribbean by CARILEC last year.
Read More About