As a part of their ongoing philanthropic support of local charities, the Caledonian Society of Bermuda has donated over $300 worth of food vouchers from Lindo's and Butterfield & Vallis to the Wesley Methodist Church Food Hamper.
The programme works to provides food items to families and individuals in the community who are experiencing financial difficulty.
Caledonian Society Chieftain, Mark Lavery, presented Rev. Calvin Stone with the food vouchers that the Society received for placing first in the non-profit category of last month's Christmas Boat Parade.
Mark Lavery presents food vouchers to Rev. Calvin Stone of Wesley Methodist Church: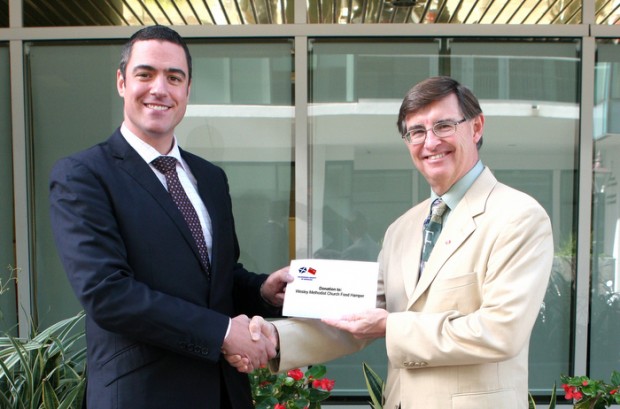 Mr. Lavery said: "The Caledonian Society of Bermuda was very pleased to have placed first in our category during the Boat Parade, but we are equally happy to be able to able to pass on our winnings to such a worthwhile service as provided by the Wesley Methodist Church Food Hamper."
The Society's winning entry featured pipers and drummers from the Bermuda Islands Pipe Band, a raucous crew of kilted deckhands and over 500 green, white and purple ferry lights, effectively arranged to resemble Scotland's national flower, the thistle, aboard Society member Liz Adderly and husband Herbie's vessel, Nauti Ness.
Video of the Caledonian Society's Christmas Boat Parade entry:
Mr. Lavery said, "The Food Hamper is an invaluable resource for those members of our community in need of some help to provide enough food for themselves and their families – whether during times of unexpected economic hardship, or on a longer term basis."
"With this in mind, the members of the Caledonian Society of Bermuda had no hesitation in voting to make this donation."
For more information on the Caledonian Society of Bermuda please visit their website.
Read More About
Category: All