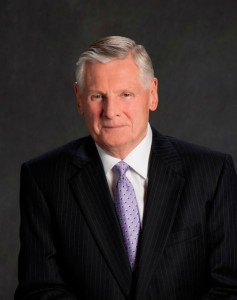 Bermuda Tourism's increased emphasis on engaging consumers across social media platforms has resulted in its official Facebook page surpassing the milestone of 100,000 likes, according to the website's latest metrics.
Since February 1, 2013, Bermuda has experienced a 91 percent increase in the number of followers across this key social network.
"We are extremely pleased to see how Tourism's Facebook page has grown to become one of the most influential platforms to reach potential visitors," said Bill Hanbury [pictured left], CEO of the Bermuda Tourism Authority.
"We understand the importance of social media and are placing a great deal of emphasis on our digital assets going forward. We will continue to utilise creative ways to stimulate our current followers and gain new ones across these very important channels."
"Bermuda's continued Facebook growth has been the result of utilising the latest industry trends, including the use of compelling imagery, to spur consumer engagement and promote both the island's latest campaigns and upcoming events," the BTA said.
"The social network has also served as a means to communicate directly with travellers and uses feedback to help determine visitor preferences. Weekly themed posts also provide opportunities for increased engagement, with recent efforts that have included the use of beautiful beachscapes on "Life's A Beach Monday," calming island scenery for Tuesday's "Peace of Mind" post, an inspiring quote in Wednesday's "Island Insight," and celebratory weekend imagery and messages on "Flickr Friday" and "Weekend Wanderlust."
"Bermuda has also used promoted posts and paid ads to publicise its ongoing campaigns on Facebook, including the island's Free Night Offer, Pink Sale, JetBlue co-op, Bermuda Spring Break and Winter Promotion. Using organic marketing, the island utilises engaging content to keep the community informed of island events such as Restaurant Week, Love Month and Christmas in Bermuda.
"Both ads and promoted posts have led to new fans visiting the site and liking the Bermuda page as well as alerting its current audience to upcoming offers, events and promotions.
"Bermuda Tourism has attributed its recent social media success to both competitive analysis and constant collaboration with its partner advertising, social media and public relations agencies. In order to stay on top of the latest industry trends, as well as the best channels to reach new audiences, tourism marketing officials have taken a very active approach to social media and meet weekly to discuss how
"Bermuda can best utilise its platforms, while brainstorming creative campaign ideas, thematic content strategy and upcoming promotions and events.
"We look forward to our continued collaboration between our partners and in-house social media experts to determine new and exciting ways we can foster relationships between Bermuda and potential visitors," said Mr. Hanbury.
"Our social media assets, and our Facebook page in particular, brilliantly show how our island offers So Much More than anywhere else and we look forward to welcoming more visitors in 2014."
Read More About
Category: All, technology