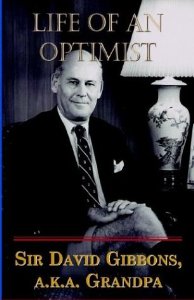 [Updating] "All Bermudians will mourn the loss of Sir David Gibbons, one of Bermuda's great men in politics and finance," OBA Chairman Thad Hollis said following the passing of the former Premier earlier today [Mar 30] at age 85.
Mr. Hollis said, "He will be remembered as our Premier during the late 1970s, which was a time of great social unrest. He became Premier in 1977, and held that office until very early in 1982.
"But his greatest contribution to Bermuda was probably as Finance Minister earlier during his career.
"He introduced the concept of a balanced budget in Bermuda, substantially reducing the debt we had incurred as a result of undertaking needed capital projects.
"He created the sound financial base from which Bermuda was able to enjoy a period of extraordinary financial success during the 1980s.
"The One Bermuda Alliance offers its sympathy and prayers to his family in their bereavement," added Mr. Hollis.
Update 10.00pm: A spokesperson for the Gibbons family confirmed that Sir David Gibbons "died peacefully Sunday, 30 March 2014 with members of his family by his side."
Update 10.02pm: Governor George Fergusson said: "I am very sad to learn of the death of Sir David Gibbons.
"He made an astonishing contribution across a broad sweep of Bermuda's political and business life, and in both helped set the foundations for much of Bermuda's prosperity. I send my condolences to Lady Gibbons and his wider family."
Update 10.47pm: Premier Craig Cannonier said, "On behalf of the Government of Bermuda and all Bermudians, I offer our sincere condolences and prayers to the family of former Premier, Sir David Gibbons who died this afternoon.
"Sir David was a man of great accomplishment – a political leader during a time of turbulence and change, a renowned businessman who succeeded both here at home and abroad and a philanthropist whose generosity benefited many.
"His life's work made Bermuda stronger and more prosperous. May he rest in peace."
Update 12.09pm: As a tribute to Sir David Gibbons, the Cabinet Office has advised that all flags on all Government buildings will be flown at Half-Mast today, as well as the day of Sir David's funeral.
Update 1.47pm: A PLP spokesperson said, "The Bermuda Progressive Labour Party today acknowledges the passing of former Premier Sir David Gibbons. On behalf of our members and supporters, we extend condolences to the family of Sir David."
Read More About