The PLP will host "Free Up 1.0″ — an open mic on the decriminalization of cannabis — on Sunday, March 16th at the Devils Hole Club starting from 7:00pm. The panelists will be Senator Marc Daniels, Senator Diallo Rabain, Alan Gordon and Michael Brangman.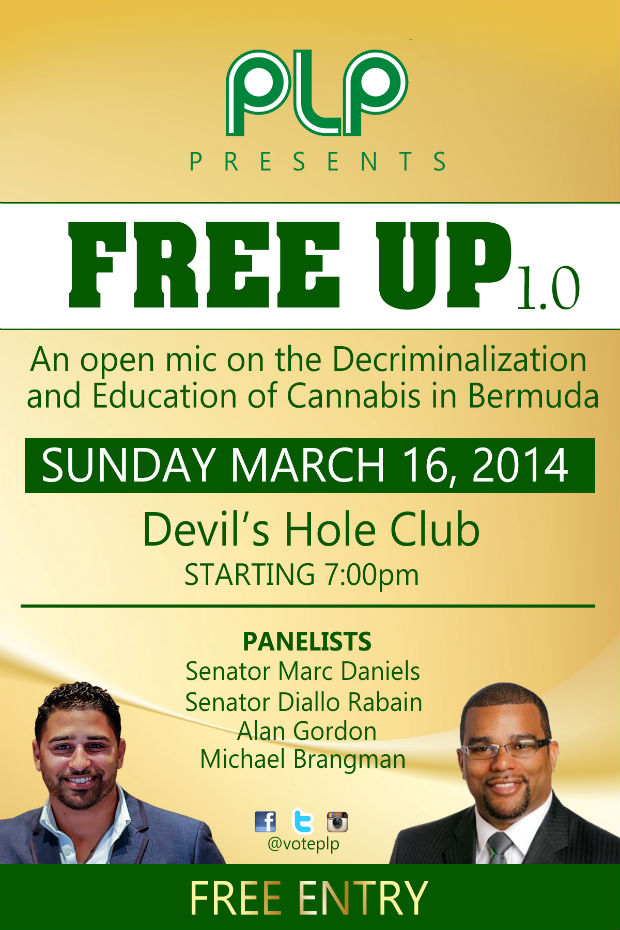 In the Opposition's Reply to the Budget last month, Shadow Finance Minister David Burt suggested regulating and taxing cannabis as an option to increase government revenue.
Mr. Burt said, "The state of Colorado is expected to earn $134 million in direct taxation from its newly regulated cannabis industry. They are spending that money on school construction, law enforcement, public health, and substance abuse prevention.
"Though we are much smaller than Colorado, there is no doubt than any additional tax revenue from a local regulated cannabis industry would be welcome.
"I am not promoting the consumption or abuse of cannabis; however, I think we can all agree that a responsible cannabis consumer is no worse than a responsible citizen who enjoys a glass of wine or a cocktail at home.
"What I am promoting is a sensible and pragmatic approach, which has been successfully implemented in other jurisdictions, that can assist us in generating additional revenue.
"When our island is faced with cuts to education, health care, and social programmes, I think the better choice is to regulate and tax cannabis to ensure that the budget and the economy can benefit," added Mr. Burt.
"A regulated industry would remove this activity from the shadows, reduce associated law enforcement expenses, contain adequate safeguards for children and restrictions on public use, generate revenue for the country, and would have the additional benefit of having more persons contribute to social insurance, healthcare, payroll tax, and pensions."
Read More About