The Ministry of Health and Environment provided the an update regarding the "greaseballs" which have been spotted washing ashore this week on several South Shore beaches.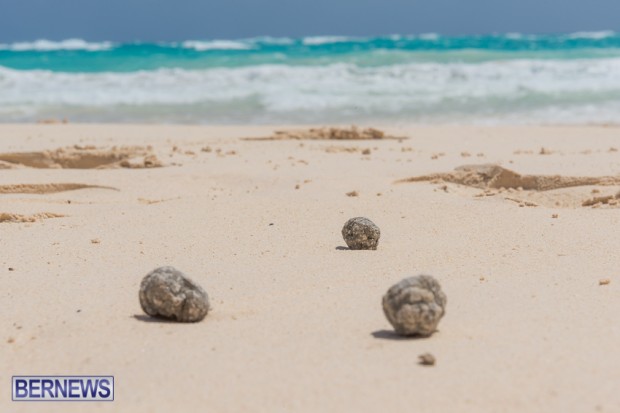 The full statement from the Ministry is below:
The Ministry of Health and Environment would like to provide the general public with an update regarding greaseballs which have been spotted washing ashore this week on several South Shore beaches.

What follows is a timeline of events.

On Sunday a weather pattern with Easterly winds and swell was forecast. Due to this, the Department of Health planned a proactive beach assessment for Monday as these conditions were similar to those which brought the greaseballs ashore this time last year.

On Monday daytime beach water quality samples were taken at Elbow Beach, Grape Bay, Warwick Long Bay, Horseshoe Bay, Hungary Bay, John Smiths Bay, Clearwater Beach, Shelly Bay, Tobacco Bay, and Snorkel Park and a thorough beach inspection was carried out by Health officials. In the evening there was a further inspection of beaches by Health officials.

At 7:15pm on Monday greaseballs were identified on Elbow Beach, and Health officials made arrangements with the Department of Parks for a dawn cleanup.

On Tuesday at 8am a dawn beach cleanup was concluded at Elbow Beach by Parks staff.

On Tuesday morning a Cabinet and special Cabinet committee met to discuss the matter and called technical officers and various stakeholders to Cabinet for a briefing, where it was decided that a 4pm press conference would be scheduled to alert members of the public to the greaseballs.

Parks staff performed further beach inspections and greaseball removal on Tuesday afternoon and Department of Health officials took water samples at the same locations as well as Southlands Beach and Church Bay.

Yesterday the Department of Health analyzed Monday's water samples, shared them with the media and uploaded them to the portal website. The water quality met the safety standards for swimming.

Parks cleaned two beaches yesterday afternoon: Elbow Beach and Grape Bay. At 8pm Parks staff attended Elbow Beach (which they had also cleaned in the morning). They finished up at Grape Bay at approximately 8:40pm last night. Warwick Long Bay was also checked but found to have no greaseballs present.

This morning the Parks Superintendent attended Elbow Beach and Warwick Long Bay and reported they were clean and free of greaseballs. Parks attended Grape Bay this afternoon where they removed further greaseballs.

The Department of Health have analyzed Tuesday's water samples and the results have found that Enterococci counts in these samples were low – ranging from zero to 7 colony forming units per 100 millilitres of water.

These results indicate that the water quality on these beaches, including Horseshoe Bay, was well within the standard at the time of sampling. Samples were collected again today by Environmental Health staff, and results from these samples will be available tomorrow. The results have now been posted on the Government portal.

Parks will perform further beach inspections as long as the weather pattern holds (forecast until the weekend). If members of the public spot greaseballs we ask that they contact Environmental Health at: 278-5333.
Read More About
Category: All, Environment, News