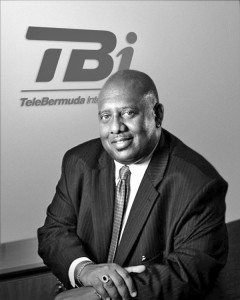 Today TBi announced that customers can now enjoy unlimited local calling to any mobile or fixed number in Bermuda.
"Unlimited local calling is an exciting new offering from TBi that helps people stay connected without the inconvenience of watching minutes," said Gregory Swan [pictured], TBi's President and Chief Operating Officer.
"Customers who sign up for the service will receive a local number and a free VOIP phone, available for a limited time. Customers simply plug the phone into their modem and can start to make and receive unlimited local calls."
"More people than ever are looking for alternative ways to stay connected while minimizing their overall cost for telephony services.
"We have carefully studied the market and listened to our customers. The mindset that keeps ringing in our ears "Quality services competitively priced". Our new service is in response to that premise," stated Mr Swan.
"As an initial rollout, TBi is introducing unlimited local calling as part of a new residential bundled package designed to provide a more affordable voice and data services solution. TBi's new bundle combines 10MB internet, unlimited local calling, unlimited calling to the USA & Canada and Wi-Fi ZONE hot spot access for only $89.95 per month and your first month free."
Mr Swan concluded, "We're giving customers more options and even better value. We will also continue with our pledge to our customer's, best value for money, no gimmicks, no contracts and no small print."
For more information on unlimited local calling, please go to www.telebermuda.com
Read More About
Category: All, Business, technology