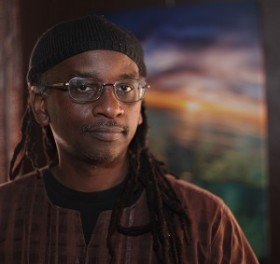 [Updated] Ayo Johnson — founder of Think Media — announced that the company's first digital journal, Politica, goes live as of 11 a.m. today [May 7].
Mr. Johnson [pictured] said he and his team spent months developing the site, the company's infrastructure, while researching "Selling Bermuda" a lengthy report on his inquiry into Premier Craig Cannonier's relationship with US developer Nathan Landow.
The report is understood to involve the "Jetgate" situation, which saw the Premier, two Cabinet Ministers and the manager of the Premier's gas station accept a ride on a private jet.
A statement from Mr. Johnson said, "Think Media addresses concerns about the quality of local reporting with a robust system of accountability that includes a commitment to the highest ethical principles and is the first media company in Bermuda to appoint an independent Public Editor [IPE].
Local columnist, Bryant Trew, who has accepted the one-year appointment, said: "Bermuda is at a crossroad socially, politically and economically. As such, our future will best be served when the public is informed by thorough and balanced news reporting.
"Ayo has proposed a model that prioritizes journalism ethics, policies and values, through the application of Codes of Practice and Conduct.
"Additionally, the Statement of Ethical Principles that Think Media has subscribed to holds great potential for readers. Given Ayo's ambitious vision, along with his diverse political reporting career in Bermuda, I am happy to support his efforts by accepting the role of Independent Public Editor."
Mr. Trew's role is that of an ombudsman – fielding and investigating complaints about Think Media's journalistic products and reporting his findings to the public. He is also free to launch investigations on his own accord.
Readers may submit their questions and concerns directly to the IPE's private email address at thinkmediaipe@icloud.com
Mr. Johnson said, "The public should take note that the IPE does not preview or discuss articles with Think Media's reporters/editors prior to publication. Additionally, the IPE is not ordinarily advised of articles under development or the schedule of publication. Succinctly, the IPE is not involved in the actual development of content.
"In a similar fashion, questions and statements submitted by the IPE are not scheduled or edited by Think Media prior to publication. The public should also be advised that Think Media's reporters and editors are not provided with the names of persons who submit questions, complaints or suggestions, to the IPE.
"Residents can access the journal by visiting www.think.bm and clicking on the Politica icon. Alternatively, residents can go directly to politica.think.bm.
"Think Media wants to bring high quality, high integrity journalism, which is independent of powerful political and economic forces, to vulnerable communities around the world.
"Our immediate focus is Bermuda and the other populated remnants of the British empire.
"It is hoped that Think Media's journalism will be supported primarily through small fees paid directly by its readers and audiences."
Mr. Johnson added, "We would like to thank the hundreds of Bermudians who gave feedback and ideas for the development of this new venture over the last few months by participating in our online survey, focus groups and social media discussions."
"You are making history by helping to incubate a new institution which we hope will lead the way in transforming the media landscape, for Bermuda and beyond."
He added: "We are also grateful to Glenn Jones, who agreed to serve as guest editor for Politica's first feature length report, and donated many hours of his time to ensure that the article met rigorous standards of journalistic excellence.
"Finally, Bermuda has seen an unprecedented partnership between multiple media houses in recent days, as Politica's launch was announced.
"Bermuda Sun, Channel 82, Bermuda Broadcasting, Magic 102.7 and Irie 98.3 should be commended for embracing the vision of transforming the media landscape in the public interest."
Update 11.54am: Mr. Johnson's website is now live and can be accessed here. The site is using  a paywall system — as Mr. Johnson explained that is how he hopes to support the lengthy work involved to produce the content – however the sign-up is only $3.
Read More About