On Friday, May 30 and Saturday, May 31, The Chewstick Foundation is inviting the community to experience its Break The Chains Poetry Spoken Word Competition. The two day event will be the culmination of The Chewstick Foundation's Break The Chains program, a creative writing and performance program using spoken word and poetry to develop literacy, confidence, identity, creativity and collaborative skills.
A spokesperson said, "The program is offered to local students aged 14 through 19. Some of the schools participating in the program are The Berkeley Institute, The Bermuda High School for Girls, Cedarbridge Academy, Warwick Academy, Saltus Grammar School, Somersfield Academy, and Mount Saint Agnes Academy.
"Each school has developed its own Poetry and Spoken Word Club that has been working on campus to develop individual competitors to represent their school at the first annual Break The Chains Poetry and Spoken Word Competition.
"In addition to the in-school coaching, the program engages independent poets within the community to share their insights with young people and lead bi-weekly workshops coordinated by Education Director Yesha Townsend and held at The Chewstick Foundation facility. The event finale will featuring adult poets on Friday and young people who have taken part in the in-school program on Saturday.
"Poets from across the island are invited to register for the Friday event, which could feature Bermuda's most experienced and talented poets competing for the title of "Best Poet in Bermuda." Poets aged 18 and over are invited to test their skills for bragging rights as top poet."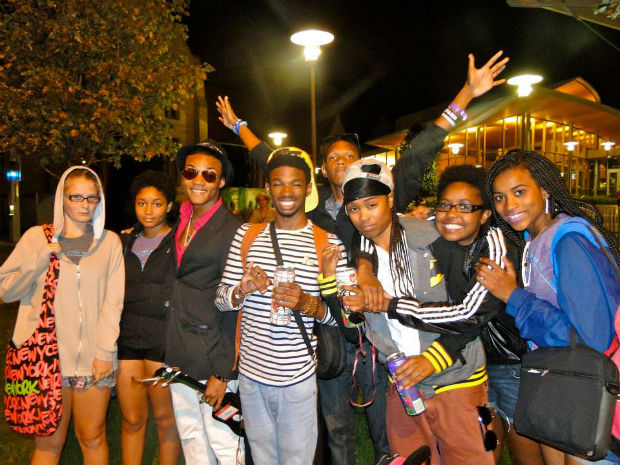 "The event is taking place at the Chewstick Lounge, beginning at 9.00pm. Community poets from across the island and within the Break The Chains program will engage in a metaphorical 'fight to the death' in a battle of words straight from the heart.
"The evening will begin with the premiere showing of the "ChewSLAM" 20 minute documentary of the team's experience at the 2013 Brave New Voices Competition, followed by a chance to meet and ask questions of young people who have attended in the past, allowing attendees to get an understanding of the Break The Chains Program structure and ethos, and ways you can get involved. The competition will then follow.
"The competition will continue into day two as Break The Chains invites young people to compete for the life-changing opportunity to represent Bermuda internationally at the 2014 Brave New Voices Poetry and Spoken Word Festival taking place in Philadelphia in July 2014. Saturday evening's events will start at 7.00pm with judges chosen from representative sectors of the literary community for a night of thoughtful impassioned performance and delivery.
"Registration for the Friday Adult SLAM and Saturday Youth Competition will be open from now until May 23 online or via collection of forms from The Chewstick Foundation Headquarters. Entry for each night will cost $20, while purchasing advance tickets for both nights will be $30.
"All proceeds raised over the weekend will go to registration and travel expenses for Bermuda's National Poetry and Spoken Word Team to compete overseas this summer. For more information, visit the Chewstick website, call 292-2439, or email info@chewstick.org."
Read More About
Category: All, Entertainment