The Department of Community and Cultural Affairs will release a new book of memoirs and creative non-fiction entitled, Take This Journey with Me, a collection of new writing by Bermudians.
Take This Journey with Me was developed as an offshoot of their Writer in Residence Programme and edited by award-winning author Rachel Manley. Ms Manley served as the Writer in Residence for Department of Community and Cultural Affairs during a three-week period in March, 2013. Ms Manley is the daughter and granddaughter of Jamaica's best known Prime Ministers, Michael and Norman Manley.
The book features writers Joanne Ball-Burgess; Lisa Brewster; Catherine Hay; Elizabeth Jones; Mike Jones; Ronald RW Lightbourne; Florenz Webbe-Maxwell; James Morgan; Andrea Oliva Ottley; Kim Dismont Robinson; Sandra Taylor Rouja; Lucinda Spurling; Cindy Swan; Yesha Townsend; Marlene Warren and Grace E. Welch.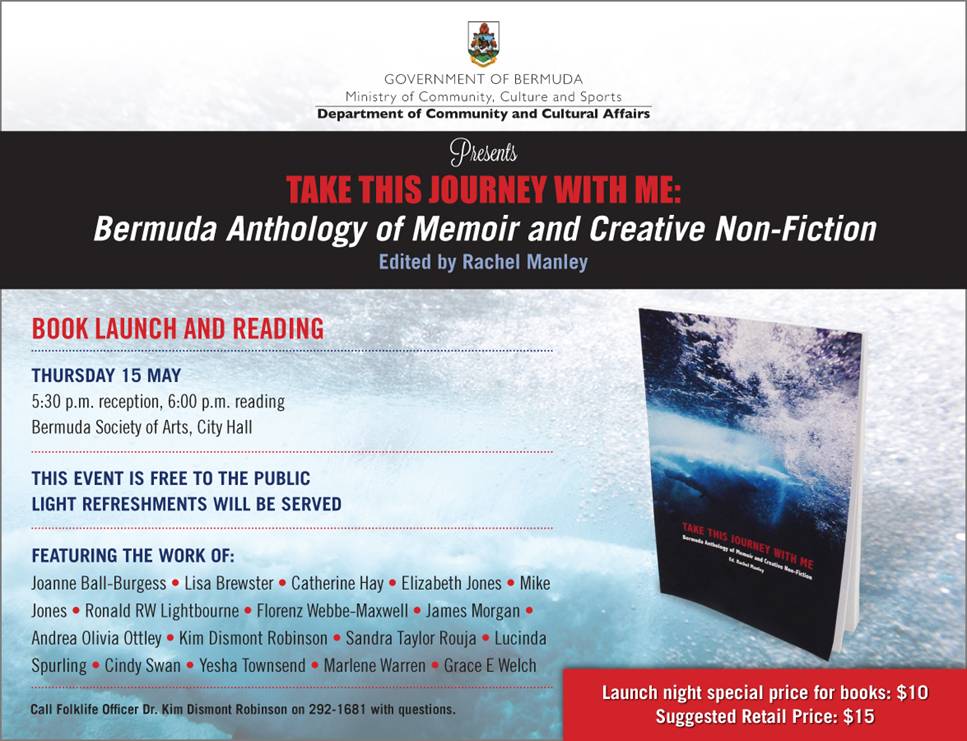 Ms Manley commented, "Memoir is harder for islanders than fiction or poetry. Memoir hasn't got the hiding places. With fiction you can disguise in any way you wish, having the wide prairie of imaginative possibility. With poetry you have a structure within which to keep enigma safe. But memoir, by its nature, calls on us to tell our familiar stories with a promise of truth. And this I think was the greatest challenge for the writers featured here, to own and share secrets of their island, their families and their own."
Minister of Community, Culture and Sports Wayne Scott  wrote, "The stories in this collection delve into the sometimes humorous, often painful reflections of sixteen of our writers – young and not so young; male and female; black and white; exploring Caribbean and Portuguese roots; telling stories that cumulatively reflect the cultural mosaic of Bermudian life. I would like to offer my sincere appreciation to the writers for their courage to share their experiences and to the editor of this publication, author Rachel Manley."
On Thursday, May 15, the Department of Community and Cultural Affairs will host the book launch, reading and reception at the Bermuda Society of Arts at 5:30 p.m. The event is free to the public. The books will be sold at the launch for $10.
Read More About
Category: All, Entertainment, News