The Bermuda Hospitals Board [BHB] came together with Minister of Health, Seniors and the Environment Jeanne Atherden, doctors, and recipients of blood transfusions this week in order to launch World Blood Donor Week for Bermuda, stressing the importance of donating blood, citing its importance to all members of society, from the very young to the very old.
Minister Atherden said, "I am very pleased to be here today to launch World Blood Donor Week for Bermuda. This year's theme is 'give blood for those who give life, safe blood for saving mothers.' When people think of donating blood for others, they often think about accidents and surgeries; the range of people who benefit from blood transfusions also includes cancer patients and sickle cell patients. But mothers and babies can also need blood."
Mrs. Christine Virgil, Clinical Director of Maternity, Minister Atherden, Dr. Eyitayo Fakunle, BHB Consultant Haematologist, and Betsie Blood-drop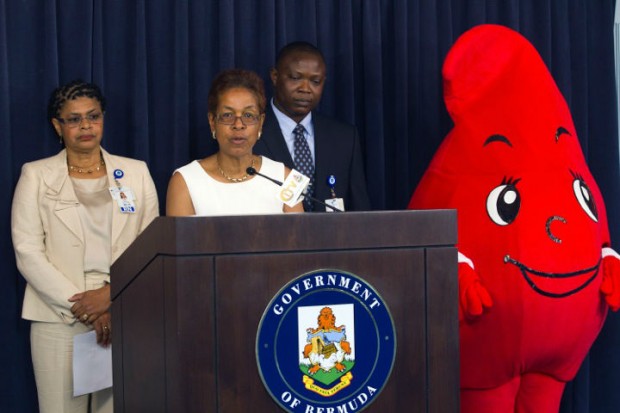 "It is important to stress that complications in labour are rare, but they do happen. This can happen in emergency situations during labour, if there is a hemorrhage, it can be offered during pregnancy if a mother is found to be severely anemic, and it is also needed sometimes during a miscarriage.
"In all cases, it can save lives and prevent harm to the health of mother or baby, and sometimes both."
Laura Petronzi, blood donor recipient, and baby Asher, Nicole Brockington, blood door recipient, Minister Atherden, Betsie Blood-drop, Dr. Eyitayo Fakunle, BHB Consultant Haematologist, and Amanda Darrell,, blood donor, with baby Evelyn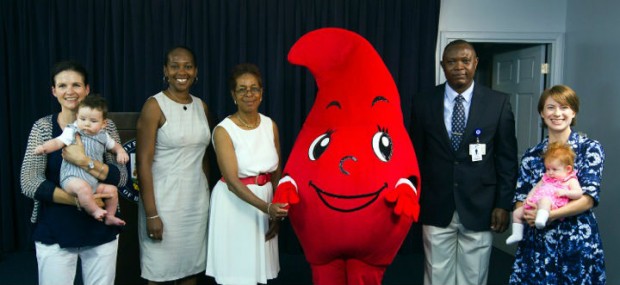 Clinical Director of Maternity Christine Virgil said, "There are between 600 and 700 births in Bermuda every year. Although most births are safe, a small number can have complications and, despite excellent on-island pre-natal care, it is not always possible to know in advance when there will be complications.
"When complications arise, it can happen unexpectedly and is often very scary. We are very fortunate in Bermuda to have regular donors who ensure blood is there when it is needed."
Jill Moniz, retiring blood donor, Minister Atherden, Dr. Eyitayo Fakunle, BHB Constultant Haematologist, Betsie Blood-drop, Rudolph Dowling, retiring blood donor, and Geoffrey Flint, retiring blood donor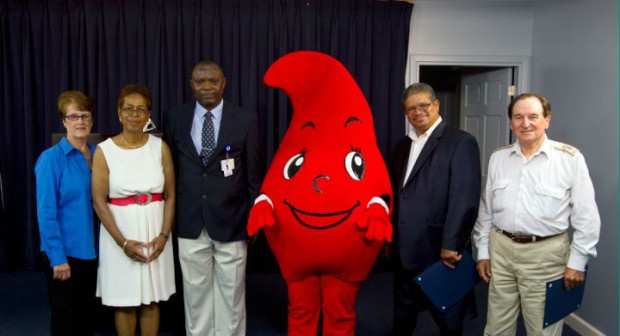 Nicole Brockington, a mother who recently received a blood transfusion after giving birth, said, "After naturally giving birth to a healthy baby girl, I found myself laying in my hospital bed feeling unsteady, immobile, and feeble.
"This confused me, because I had given birth 12 years ago and was perfectly fine right after – until my doctor came in and told me that the reason I was feeling like this was due to excessive blood loss during delivery and I would need a blood transfusion to regain a natural bill of health."
Amanda Darrell, mother and blood donor with baby Evelyn, and Laura Petronzi, mother and blood donor recipient with baby Asher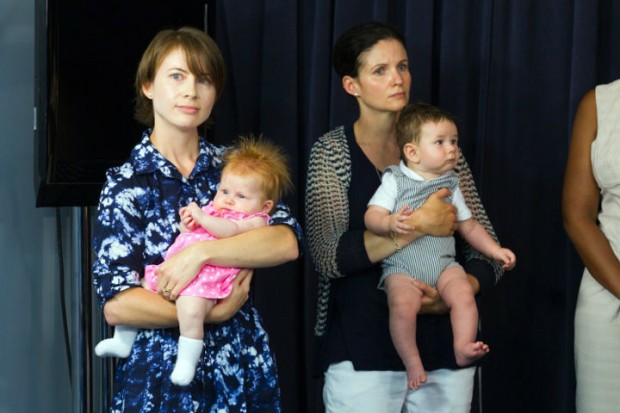 "On March 12, 2014, I became the successful recipient of a blood transfusion. Immediately after, I felt rejuvenated. This was all possible because someone took the time out of their day to donate blood to save another person's life, whom they would never meet. From the inmost part of me, I would like to say thank you for your courage and your kind heart and thank you to all the donors out there."
Jill Moniz, a retiring blood donor, said, "I have been donating blood since the 1980s. And while I am having to retire as a donor, I want to encourage others in the community to go that extra mile and call the donor centre to arrange an appointment to donate blood.
"I am passionate about donating. I benefited from a blood transfusion in 1975 due to a medical emergency. I realized then how important it is to become a blood donor giving back and perhaps saving someone's life."
Read More About