This video from our new sister site ForeverBermuda.com shows a trip through the waters of Bermuda's southeastern shoreline, revealing not only the picturesque scenery, but also the series of islands and islets that lie across Castle Harbour, some of which hold aged fortifications that once protected St. George's.
The town of St. George's and its fortifications have earned it the distinct status of being a UNESCO World Heritage Site, with UNESCO calling the area "an outstanding example of a continuously occupied, fortified, colonial town dating from the early 17th century, and the oldest English town in the New World."
Frick's Point [also called Castle Point] which is adjacent to Castle Island: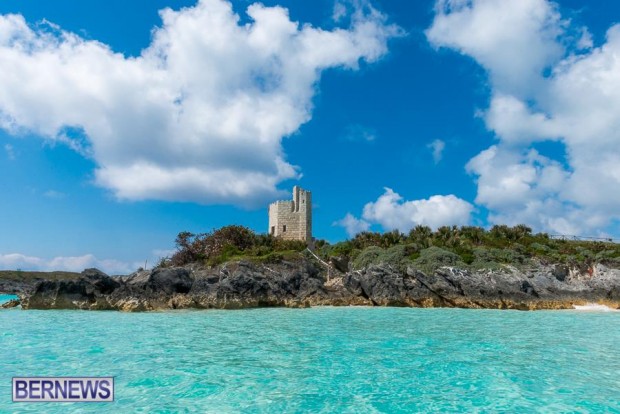 According to the UNESCO World Heritage Site nomination form [PDF/36 Pages], immediately upon the establishment of the town of St. George's in August 1612, the Governor set about erecting fortifications for the defence of the settlement, including the building of three forts on Charles and Castle Islands to defend the Castle Harbour area.
Marking the beginning of the coastal defence of the British Empire overseas, the surviving forts on Castle and Southampton Islands were the first English masonry fortifications in the Americas and are the oldest standing English forts in not only the New World, but the entire overseas empire.
Three 17th century forts are still standing on Castle Island, while a fourth, built with timber, was burnt to the ground in 1619.
One of the structures, dubbed The King's Castle, is a masonry fort fronting the sea. It originally had an upper and lower battery, and in 1621, a home was built for the Captain, a building which may represent the oldest standing English house in the New World.
Read More About
Category: All, Environment, News, Videos