The Future Agro Challenge [FAC] which is being hosted in over 25 countries globally, is known as "the world championship for innovators, visionaries and leaders to change our everyday life through farm, food and lifestyle".
Run as a part of Global Entrepreneurship Week, the Bermuda competition was judged on Tuesday, 21st October.
The Bermuda Economic Development Corporation [BEDC] which conducted this first annual FAC from Oct 1st – Oct 15th was represented by Program Officer Jamillah Lodge who stated, "We knew we were asking a lot to try to get submissions in such a short time frame, but we felt it was important to give our local entrepreneurs the chance to get international exposure.
"Despite competing with two hurricanes, we were happy to receive three entries." The three submissions included, Abbie Caldas, for Greenrock's Eco Schools program, Connor Burns and EJ Burrows for Bermuda Aerial Media and Omari Dill for Utopia.
[L-R] Jamillah Lodge, BEDC; Abbie Caldas, Greenrock -Eco Schools; Connor Burns, Bermuda Aerial Media; Omari Dill, Utopia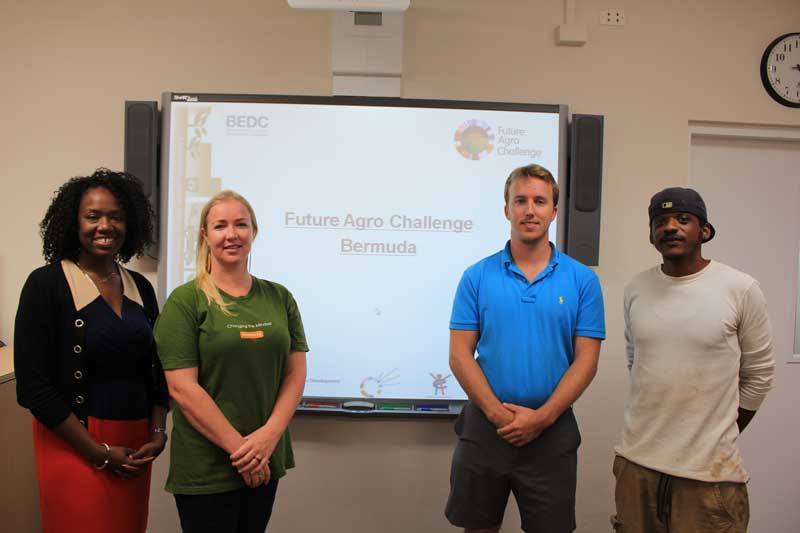 All of the submission received were impressive and equally represented what is being done to help create and maintain a vibrant agro culture in Bermuda. The judges did not have an easy time of selecting a winner as all the presentations were delivered well.
After some deliberation, the judges confirmed their winner: 2nd runner up was Abbie Caldas for "Eco Schools" an international, comprehensive education programme that is being delivered by Greenrock and currently in 12 schools in Bermuda.
The first runner up was Omari Dill's Utopia moving Bermuda towards local food sovereignty by incorporating education, edible landscaping and apprenticeships into his business model.
The National winner was Bermuda Aerial Media with Connor Burns and EJ Burrows who are taking advantage of cutting edge technology in robotics, engineering, and computer software and applying it in diverse ways to aid in agricultural land management.
The Competition judges included, Dr. Fred Ming, Director of the Department of Environmental Protection, Ms. Claire Jessey, Plant Protection Officer, Entomology, Department of Environmental Protection and Mrs. Sheilagh Robertson, BEDC Board Member and owner of Harbourmaster.
Mrs. Robertson said, "Bermuda Aerial Media is a good example of a small company founded by two young Bermudians who are taking advantage of cutting edge technology in robotics, engineering, and computer software and applying it in diverse ways.
"The partners Connor Burns and EJ Burrows, have the vision to look beyond Bermuda's shores to create a business that has the potential to expand globally as they are pioneers in a new field."
"Thanks to our gracious sponsors, the Bermuda National winner will get a chance to pitch their idea, at the global competition in Athens, Greece November 14th – 16th.
"The 9 best ideas will be selected by the Global Future Agro Challenge team and one Social Media Award will be offered to the start-up that is most popular among all participating countries. Last year, €250.000 of non-equity funding was secured for eight winners of the competition.
For information about GEW, the public can email Jamillah Lodge at the BEDC at jlodge@bedc.bm, call 292-5570 or go to the BEDC website.
Read More About
Category: All, News, technology