[Updated with video] Minister of Community, Culture and Sport Wayne Scott presented awards and donations to Scars Programme and several public schools on behalf of the Mirrors Programme's Take a Stand for Youth Campaign today [Nov 5].
The fundraising campaign was spearheaded by Mirrors Alumni and Friends Association and Kim Jackson, Programme Coordinator for Mirrors.
Last year, Ms Jackson challenged herself to train and complete the Annual Half Marathon Derby to raise funds for schools and Mirrors education outreach. She completed the Derby after nine months of training. Her efforts paid off and she raised almost $45,000.
Principals and students from participating public, primary, middles and secondary schools.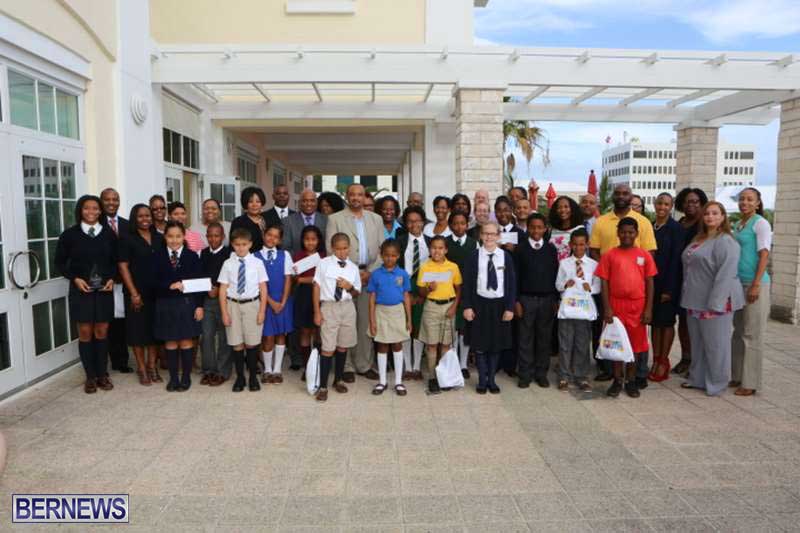 Minister Scott praised the efforts of the Ms Jackson stating, "In keeping with her declaration, Kim completed the Bermuda Half Marathon on May 26th, 2014. She demonstrated what is possible when one is committed to a vision without excuse and without pause.
"Her spark in turn ignited a flame within the community whereby the Taking a Stand for Youth Campaign raised a total of $44,788.00 to support Mirrors programming and educational programmes."
Minister Scott with Dejanee Hill-Edwards and Kim Jackson, Mirrors Programme Coordinator
Minister Scott added, "I wish to first publically congratulate Kim Jackson for her dedication to Mirrors Programme and the youth of Bermuda. You made us so proud when we you crossed the finish line on May 26. You took stand, you accomplish your goal and we are all the better for your courageous stand."
Minister Scott also presented the Leadership Award to Berkley Institute student, Dejanee Hill-Edwards. Dejanee is an alumni member of the recently completed Cohort 9 of the Mirrors Program. She was the Chair of the Executive Committee for the Community Service Project and also served as Treasurer.
In her role as Chair, she exhibited remarkable organizational skills and lead the committee by example. She encouraged participants of Cohort 9 to get involved with the community service project, ensured everyone knew their tasks and kept the whole team focused on their goal, adults included.
Minister Scott with Dejanee Hill-Edwards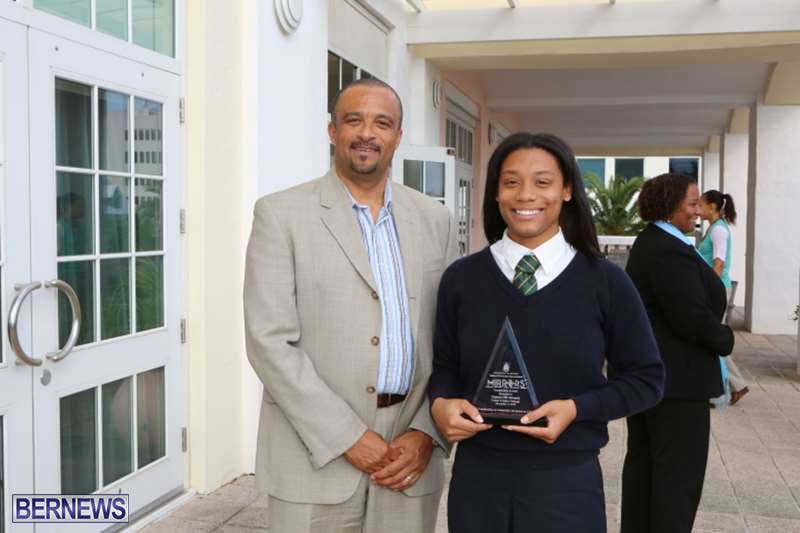 During the nine month Cohort, she continued on her path to achieve the goals and was observed encouraging other participants to stay focused on theirs. Dejanee was received the award because of her positive attitude, pleasant demeanor and overall focus. She is also volunteers at the Bermuda Aquarium Marine and Zoo as a member of their Junior Volunteer Program.
Read More About