Bermudian Wayne Caines addressed a Mike Brown rally in Atlanta last night [Nov 26], telling the crowd it was a "global movement," and calling on young people to do their part to help change the world.
In August 2014, Michael Brown, an 18-year-old black man, was fatally shot by police officer Darren Wilson, in Ferguson, Missouri, a suburb of St. Louis. The shooting sparked protests and unrest in Ferguson, which were widely covered by media around the globe.
The circumstances surrounding the shooting were investigated by a grand jury, and on Monday [Nov 24] prosecutor Robert McCulloch announced that the jury had decided not to indict Darren Wilson for the shooting, sparking protests across Ferguson and the United States.
Photo courtesy of Mr Caines Facebook page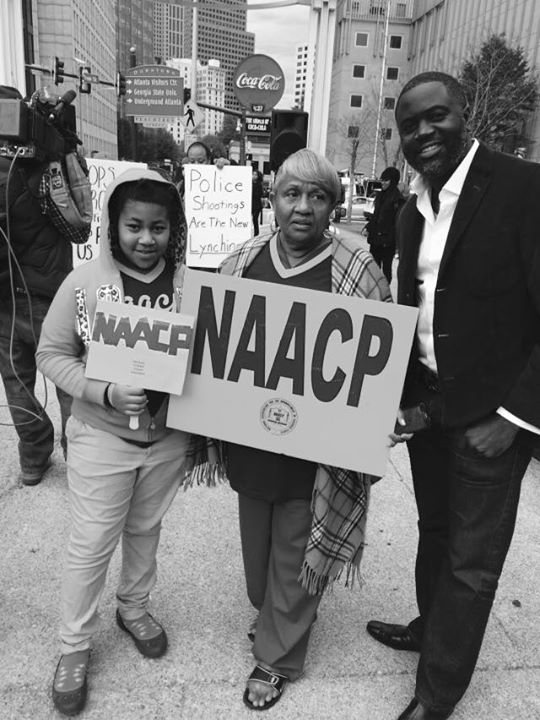 Speaking at the rally, Mr Caines said, "I came out from Bermuda to spend Thanksgiving with my daughter. Last night, like everyone here, I sat in horror, I sat in horror, as I watched a District Attorney try to explain, to justify, to legitimize why a black man was gunned down and left lifeless in the street. My daughter and I watched together, she said, 'Dad. What do we do now? Dad. Now, what?'
"I looked her in the eye, I said, 'I'm going to put that question back on you? You tell me now what?' That's not a hypothetical question. That's not existential question. I put that question on you tonight. Now what?
"It is your time. I'm going to share something with you. Your time is now. You are now Rosa Parks. Those dogs that will be set on them, those dogs are now beset on you. The hoses that were set on fire, those hoses are now set on you…
Speaking to loud cheers from the gathered crowd, Mr Caines added, "Understand that this is a global movement."
"Understand, as heinous and as hard to take, and as so unrighteous the actions against Mike Brown was…in 2013, in Brazil, over 2,000 black men were murdered at the hands of the police.
"In South Africa, last year, over 500 black men were killed at the hands of the police. This is a global struggle."
Protesters march through NYC and LA to protest the grand jury decision
"So, you can be an Instagram and Facebook revolutionary. You are going to have to do more than hit 'like' to change this world," continued Mr Caines to massive applause from the crowd. "You are going to have to get more followers, following around the globe to change this world."
"His name was Mohamed Bouazizi. He was a street fruit vendor in Tunisia. He was so angry, he was so upset with how they treated him. They made him pay an unnecessary tax for his fruit. He was unable to support and feed his family.
"On this particular day, one of the tax people came to him and they asked him for more money. They tried to fleece him. So aggrieved was he, that he took gasoline and he stood in the middle of the street, and he poured the gasoline over his head and he died.
"I'm not asking for anybody to do that," stressed Mr. Caines, "But that one act of courage, that one act of resistance, that started the Arab Spring. Syria, Tunisia, all of these countries rallying around the young people like you.
"The people with Facebook and Instagram, they use their world, the things at their disposal, to change the world, so I pose this question again. Now what? Now, what are you going to do?
"Understand, it is your time. It is your time, so what does this mean? If you're a student at Morehouse and you're studying, you have to study harder than you've ever studied."
Read More About