Olympic medalist Sir Ben Ainslie said the British team would prefer that Bermuda host the 2017 America's Cup given its "connections with the UK," according to multiple international media reports.
The Olympic sailor is no stranger to Bermuda, having sailed here many times before, as well as participated in sailing clinics with youth sailors.
"I haven't sailed that much in San Diego but I have in Bermuda for the Gold Cup and I think that it [the weather] would be a great challenge for the teams," he said. "It's pretty variable, so from a design point of view it would be a pretty big challenge for everybody.
"You look at the wind charts and one day it might be six knots and the next it might be twenty knots. So from a design perspective you need to cover a whole range of conditions rather than like San Diego where it may be 8 knots every day or San Francisco where it might more typically be 15-20 knots."
Sir Ben Ainslie is pictured below at sailing clinic in Bermuda last year: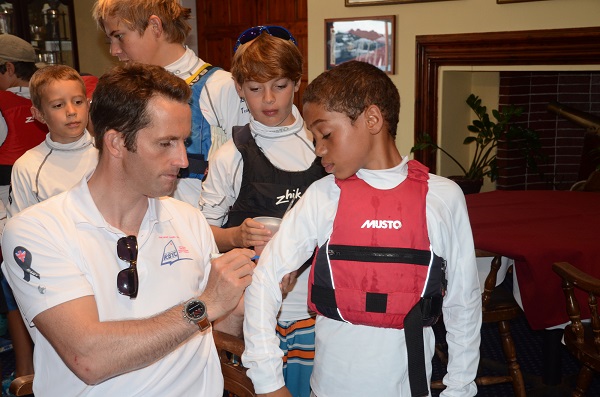 This isn't the first time the Olympic sailor has backed Bermuda has a venue, having said "Bermuda is probably better for the purists" back in September.
The venue for the 2017 America's Cup, will be either San Diego or Bermuda, and while reports suggest Bermuda will be given the nod, the decision is due to be officially announced on December 2nd.
Citing an unnamed person "with knowledge of the situation", the Associated Press reported that Bermuda has been picked over San Diego, while a report from the San Diego press quoted San Diego Tourism Authority CEO Joe Terzi as confirming that Bermuda has been selected.
Video highlights of the 2013 America's Cup
Not everyone is as impressed with Bermuda as Sir Ben is, with some international reports calling us a "tax haven", while a column on Sail World thundered about us, saying "If true, the selection of Bermuda is both an embarrassment for USA and a kick in the guts, for the country of the Cup Holder."
"It's an appalling situation when the country that has held the America's Cup the longest, decides that having won it back and conducted a successful Defence in the waters of the winning club, that commercial needs prevail and the event should be sailed in an offshore tax-haven," added the column.
Six teams are set to complete for the 35th America's Cup, with the defending champion Oracle Team USA to be challenged by Artemis Racing from Sweden, Ben Ainslie Racing from Great Britain, Emirates Team from New Zealand, Luna Rossa Challenge from Italy as well as Team France.
You can view all our coverage of the America's Cup here.
Read More About