According to a recent poll by Global Research, 57% percent stated that Bermuda Day should continue to be celebrated on the 24th of May.
After last year's Bermuda Day, an online petition — which gained 696 signatures — was started calling for "the necessary changes to observe Bermuda Day on the Friday before the last Monday of May each year."
Chart provided by Global Research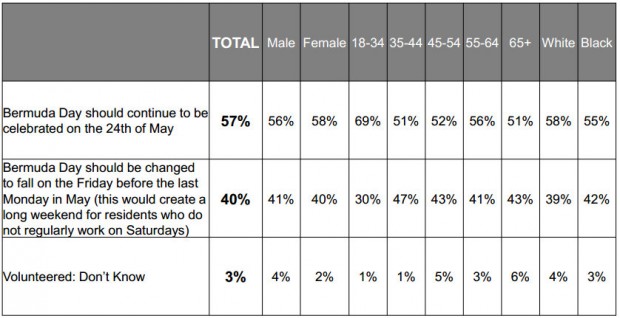 In addition the Opposition recently tabled a Bill [PDF] to change the date saying, "The amendment has as its principle aim to effect a long holiday weekend by observe the Bermuda Day on Friday before the last Monday in May when many economic social benefits will enure to the Bermuda economy and School children participating in the Bermuda Day Parade."
In describing the methodology, Global Research said they utilised Computer Assisted Telephone Interview [CATI] to interview 400 registered voters between December 1 – 8 2014.
The results were weighted to be representative of Bermuda's population on the following factors: age, race, gender, the margin of error for the study is +/- 5% at the 95% confidence level, and some chart percentages may add to more than 100% due to multiple mentions.
Read More About