A "wanted" poster has appeared on the Department of Immigration's website, seeking information on the whereabouts of a 46-year-old foreign national, and also reminding the public that it is an "offence to harbour an illegal immigrant."
Robert George McFarlane is described on the "wanted" poster as a black male of Jamaican nationality, who was born on October 29, 1968 in St. Thomas, Jamaica.
The poster says, "If you have any information on the whereabouts of Mr. McFarlane, please contact the Department of Immigration on [441] 297-7950/[441] 297-7694 or via the Immigration Hotline [441] 296-5202 or the Immigration Online Tips website or http://www.doiapps.gov.bm/immigration/.
"Pursuant to Section 112 of the Bermuda Immigration and Protection Act, 1956 it is an offence to harbour an illegal immigrant," the poster adds.
Poster courtesy of the Immigration website: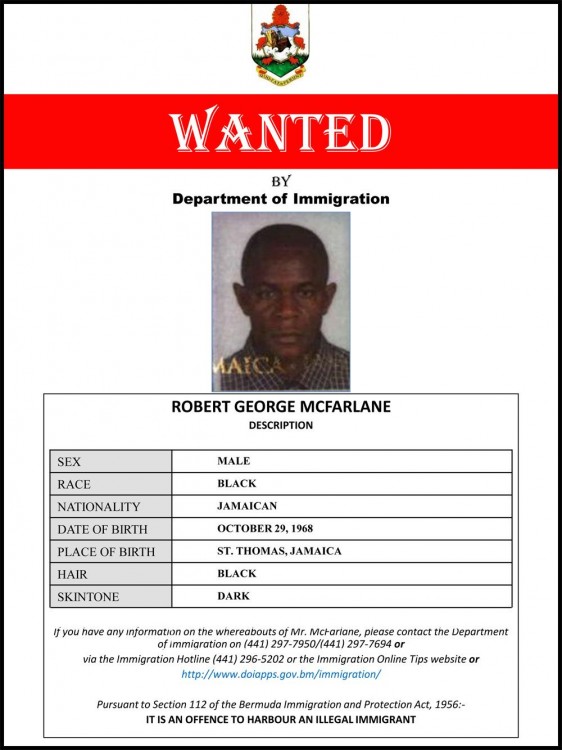 In announcing some of the policy changes that came in effect on March 1st, Home Affairs Minister Michael Fahy previously said, "In December 2014, the Chief Immigration Officer sought advice from the Attorney General's Chambers as to whether the Department of Immigration could use 'wanted' posters in an attempt to find person's who are in Bermuda illegally.
"Advice was received that confirmed the Department can proceed with such an initiative," Minister Fahy explained.
"The Department of Immigration is currently searching for at least one foreign national who is in Bermuda illegally [without the Minister's permission]. To this end, the Department of Immigration will be seeking the general public's assistance for 'Wanted Persons' via the Department's website.
"These will normally be persons where all other avenues to find them have been exhausted," the Minister added.

Read More About